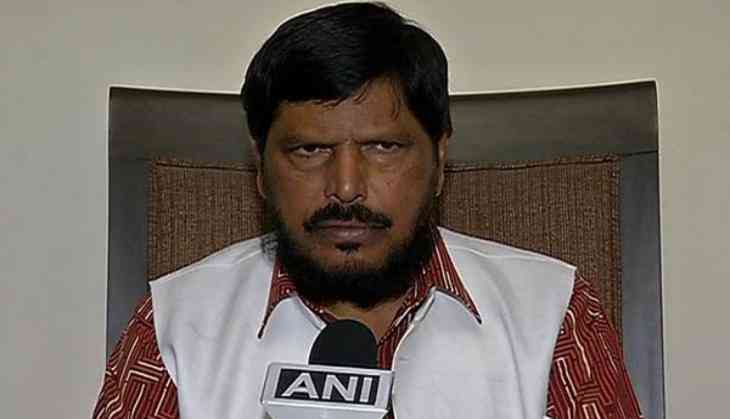 Support ban on cow slaughter, not of other cattle: Ramdas Athawale (ANI)
Amidst the commotion on enforcing a nationwide ban on cow slaughter, Union Minister Ramdas Athawale while extending his support to the cause, has categorically clarified that the ban should not include other species of cattle.
Speaking to ANI on Friday, Athawale claimed that a ban on the slaughter of cattle can have the adverse economic impact on the farmer community.
'The cow is a sacred animal to Hindus. Therefore, cow slaughter law should be enforced strictly to preserve our culture. Having said this, if a ban is imposed on other cattle, our farmers may face a shortage of funds, since they will not be able to trade their bullock or other animals,' he said.
Athawale further asserted that the Government must be more actively involved in protecting diseased cows, in case a farmer is not able to afford its expenses.
'If a farmer is unable to fund for his cattle, the Government must introduce some provisions to take up the responsibility of such cows so that the burden of the farmers is eased,' he added.
Condemning the atrocities faced by the Dalit community, Athawale said it is unacceptable for citizens to resort to hooliganism and take law and order in their hands.
'If there is a speculation of cow slaughter taking place, the Police must be informed and they should carry out a subsequent investigation. It is unjustified to mishandle the situation and cause harm to the Dalits without having enough information or proof regarding the matter,' said Athawale.
The Union Minister, lauding Prime Minister's Narendra Modi's efforts of unifying the different strata of society, further said the country's progress depends entirely on communal harmony and thus needs to be maintained at all times.
'Efforts are being made to bring the society together. The Social Justice Ministry has been working on making this possible, along with the support of Prime Minister Modi and his government. We must remember that before being a Hindu, Muslim or Christian, we are all Indians first,' he said, emphasizing on the Prime Minister's 'Sabka Saath Sabka Vikas' strategy. Reports of violence in the name of cow protection have surfaced from time to time.
Recently, a Muslim, Pehlu Khan, was killed by cow vigilantes in Alwar, Rajasthan. The opposition parties, lashing out at the Prime Minister Modi-led government, alleged that it has been overlooking violence in the name of protecting cows.
The 'violent' cow vigilantism shot into prominence with the death of Mohammad Akhlaq in Dadri, Uttar Pradesh, in September 2015. Akhlaq was lynched to death by a mob, which suspected he had slaughtered a cow.
-ANI