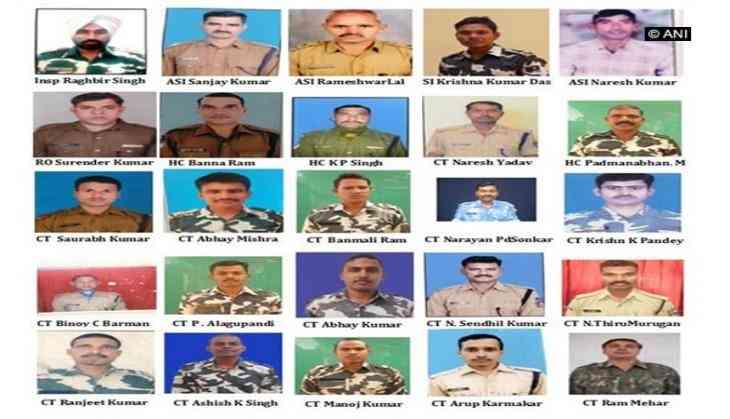 Death of my husband should be avenged", said a tear eyed wife of CRPF jawan Banmali who lost his life in yesterday's attack in Chhattisgarh's Sukma district.
With a year and half daughter in her lap, Banmali's widow Jiteshwari has nothing to say but all she wants is revenge.
"Death of my husband should be avenged. Who will do it I don't know, but justice should be done," she said.
Banmali's father, who is utterly shocked with the news of demise of his son, recalls the last conversation with his son.
"I spoke with Banmali three days back. He was going to apply for leave but then this happened. He has a year and half old daughter. I have nothing to say," said Ratha Ram.
A similar gloomy scene can be witnessed in Sikar village of Rajasthan post the killing of local hero and CRPF jawan Banna Ram.
Slain Raghbir Singh's aggravated family and friends question the intelligence failure and government inaction.
"He was a great man. All of us are shocked. I would like to ask, what were the intelligence people doing? Sleeping? I have never seen that such attacks are ever answered by the government," Raghbir's childhood friend Vikram Singh said.
"The government is not doing anything. They should take steps in the regard," said the sister-in-law of Raghbir.
On another hand, holding his head high Martyr Saurabh Kumar's father said, "Saddened, but at the same time feeling very proud. Not only my son, but many others made this sacrifice."
Earlier in the day, Union Home Minister Rajnath Singh said the government has taken as a challenge the killing of CRPF personnel and vowed that no one will be spared.
He said that the Centre and state government would work together to ensure that the perpetrators are brought to book.
Singh, who paid homage to the jawans during a wreath laying ceremony here along with his deputy Hansraj Ahir and Chief Minister Raman Singh, said this cowardly and unfortunate act exposes desperation and frustration.
"It is a cold blooded murder by the extremists. The Centre and state governments will work together and take action in this regard," Rajnath told a joint press briefing with the Chief Minister here.
The Chhattisgarh Chief Minister has called for concrete strategy to counter such attacks, while expressing grief over the death of jawans.
"It's high time when we need to adopt some strategies to counter such attacks in future. I offer my condolence to the families of deceased jawans," Raman said.
The Home Minister also briefed Prime Minister Narendra Modi on the attack last night.
As many as 25 CRPF personnel were killed and six others injured in the encounter with Naxals in Chhattisgarh's Sukma yesterday.
The attack took place on personnel of the CRPF's 74th Battalion as they were assisting the local population in road building activity in the district.
-ANI