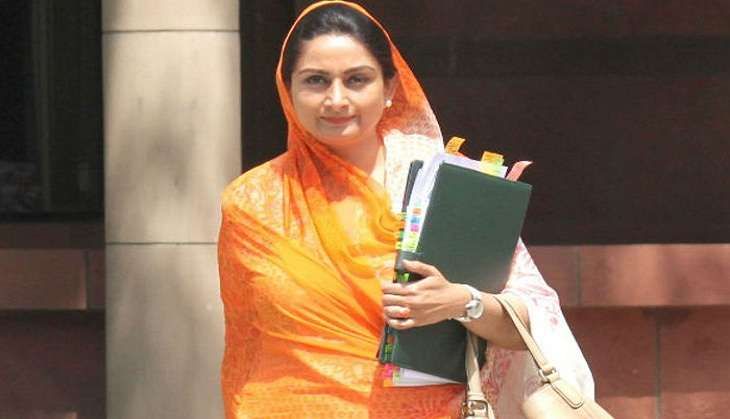 On Saturday, Punjab Congress criticised Akali leaders Sukhbir Singh Badal and Harsimrat Kaur Badal for allegedly misleading people on the party's promise to waive farmers' loans, saying their statements on the issue smacked of ignorance.
Punjab Pradesh Congress Committee leaders Sunil Jakhar, Manpreet Singh Badal and Sukhbinder Sarkaria accused Deputy Chief Minister Sukhbir Badal and Union Minister Harsimrat Badal of misleading farmers after PPCC chief Capt Amarinder Singh recently met Prime Minister Narendra Modi on the issue.
Sukhbir Badal has accused Capt Amarinder of committing a fraud by promising farmers a loan waiver, saying even if Congress were to come to power in Punjab it could not fulfil the promise.
"You promised farmers in Punjab that you would get their loans waived off when you come to power. However, even before the elections could be held, you were seen at the PM's door begging the Prime Minister to waive off these loans," he said.
The state Congress unit said the party was seeking Modi government's support at the Centre to alleviate the suffering of farmers across the country. It stressed that Capt Amarinder was committed to fulfil his promise to waive off the loans.
Contrary to what the Badals are trying to project with their "misleading propaganda", the fact is that Capt Amarinder has categorically said the debts of farmers in Punjab will be waived off once he comes to power, the PPCC leaders said.
Sukhbir and Harsimrat were trying to befool the people ahead of the Assembly elections in the state by twisting facts and making baseless charges against Capt Amarinder, they said.
These tactics would not help the Badals escape the wrath of the people in the coming elections, which would witness a rout of the Shiromani Akali Dal (SAD) in the state, they said.
The PPCC leaders also charged the Badals with playing with the sentiments of farmers, with their "deceptive" statements.
Capt Amarinder has made an avowed commitment to waive off the loans and the matter was raised during the meeting with Modi in New Delhi as part of the Rahul Gandhi-led delegation, they said.
They said the PPCC chief has waived off the loans before too during his previous tenure as the state's chief minister.
- PTI