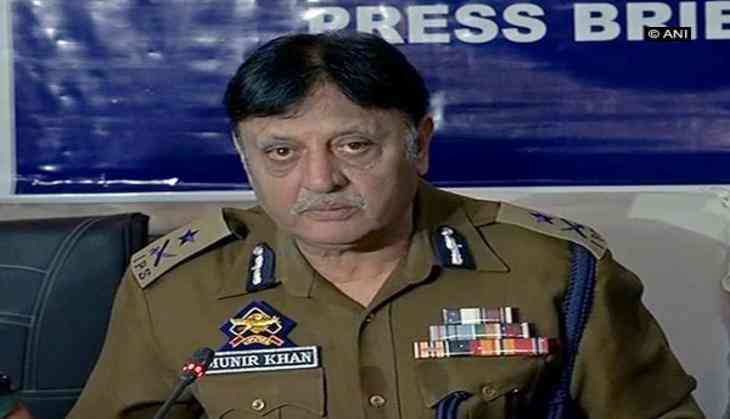 The Inspector General of Police (IGP), Jammu and Kashmir Police, Munir Khan on 16 October said the successful operations of the security forces have limited the number of militants in the valley.
"The number of militants has certainly decreased after continuous successful operations. Our main concern is to target the leadership of the militants to stop further recruitment," said Khan, while addressing a press meet.
Talking about the recent attacks by the militants, Khan said, "In last three days, we have apprehended three local militants while they were live in action. Arms and ammunition were also recovered."
One militant Rameez Yatoo was arrested from Kulgam and other two local militants, identified as Khursheed Ahmad Dar and Haziq Rather, were arrested from the Kund area of Qazigund.
He added, "Those local militants, who want to come back to the mainstream or surrender, will be given full support."
Commenting on the recent bank robberies in the Marhama village of Anantnag district and Shopian, Khan said the robberies were carried by Hizbul Mujahideen.
"Both the recent bank robberies were carried out by the Hizbul Mujahideen and the militants involved in the bank robberies have been identified, not by any eyewitness but by CCTV," he added.
Further, commenting on the spate of braid-chopping incidents reported from Jammu and Kashmir, Khan said "A proper investigation could not be held because there was no cooperation either from the victim or from their families."
The police have now resorted to use scientific investigation to nab the person, he said.
"Every SP and SHO of the region has been instructed to give the evidence, including the sample of blood and sweat of victims to know about the chemical used for making them unconscious," he added.
The number of braid-chopping incidents have increased in Jammu and Kashmir over the past few days and people have started resorting to vigilante action to prevent such attacks.
Reportedly, earlier this month, a youth was thrashed in the Baramulla district after the mob alleged him of being a braid-chopper.
In another case, two women were thrashed at a wedding function over a similar suspicion in the Baba Demb area of the valley.
-ANI