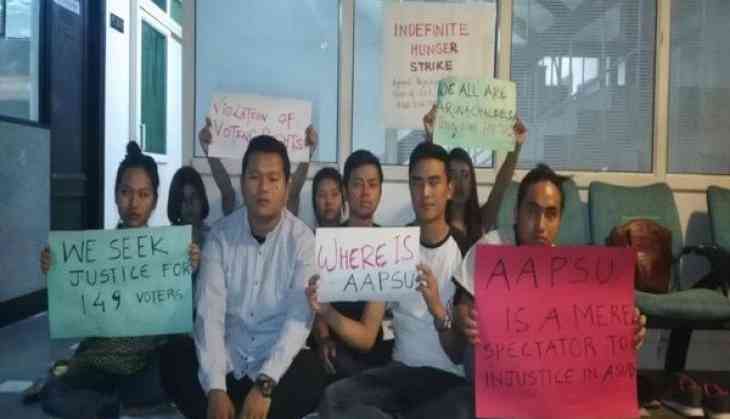 Striking Arunachal students in Delhi demand fair students' poll (ANI)
Students from Arunachal Pradesh residing in New Delhi on 7 April called for an indefinite hunger strike over corruption and alleged mismanagement in registration of upcoming Arunachal Students Union Delhi (ASUD) Election-2017.
The protesters allege that the registration of Alenso Chai, one of the aspiring candidates for the post of ASUD- president along with 149 others students, was rejected on flimsy ground.

Chai's candidacy was rejected after he failed to reach Arunachal Bhawan to file for his nomination within the prescribed time frame of 10 a.m. to 4 p.m., starting from April 2 - April 3.

According to Chai's friends, he reached the premises right on time but supporters of other candidates obstructed his way.

Chai's candidacy was rejected and after providing proof from CCTV footage, which showed that he was in the premises for registration on 3:41 p.m., 19 minutes before the deadline, his application, along with the registration of 149 voters, was accepted along.

Rupees 300 is being charged as registration fee per voter. A total amount of Rs 44,700 has been collected.

Protesters also expressed dismay over voters being charged for voting which they said does not happen anywhere.

Incumbent ASUD president Taba Doni said the charge was based on the constitution and bye-laws of the student body.

Protesters allege that the constitution of the student body has no credibility because Doni has the sole right to change the rule.

Following repeated complaints to All Arunachal Pradesh Students' Union (AAPSU), the apex students' union body in Arunachal Pradesh regarding the monetary involvement in student organisation, AAPSU issued an ambiguous notification on March 31, 2017.

The notification said that ASUD can charge Rs. 10,000- per presidential candidate and charge voters as per the bye-laws of ASUD, which should not exceed Rs 300.

ASUD on Wednesday in the presence of all the presidential

candidates and hundreds of students, convened a meeting regarding the cases of Chai and 149 voters.

After the meeting, Chai's registration along with the registration of 149 voters was rejected amid opposition from two other candidates.

The protesters now demand justice over the matter which they say is 'unconstitutional'.

They want the main student body, AAPSU to intervene and resolve the matter.
-ANI