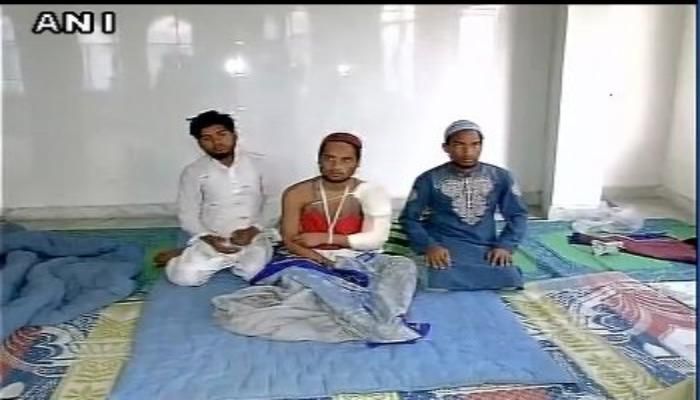 The chief imam of the All India Imam Organisation (AIIO), Umer Ahmed Ilyasi, on Wednesday described the thrashing of three madrassa students for not chanting 'Jai Mata Ki' as most unfortunate. He called on the concerned authorities to take punitive action against those trying to spread intolerance and hatred in society.
"It is unfortunate and it has come at a time when Prime Minister Narendra Modi has gone on a visit to a place revered by Muslims. Strict action should be taken against those who tried to spoil the society's environment," Ilyasi told ANI.
He added that there is need to strengthen nationalism and a sense of being Indian.
Three Muslim youth - Dilkash, Mohammad Ajmal and Naeem - were allegedly beaten up by unidentified men at a park in outer Delhi's Begampur area, as they refused to chant 'Jai Mata Ki' and 'Bharat Mata Ki Jai'.
"We had gone to a nearby park. Some men came and slapped one of my friends. They asked us to say 'Jai Mata Ki' and 'Bharat Mata Ki' and threatened to kill us. I don't know them, but I can recognise them. We called up Hafiz ji (teacher) and then the police came. We were taken to the Sanjay Gandhi Hospital," said Dilkash, one of the victims.
Another victim, Mohammad Ajmal, said they were not given a chance to say anything, adding that their skull caps were thrown and crushed. "They asked us to say 'Jai Mata Ki'. Suddenly one of them came and thrashed me with a bamboo stick. They all started beating us. We then called up our teacher. He came and called the police," he added.
5 Hindu boys have been arrested in the case with charges under Sections 323, 325, 506, 341, 34 and 36 of the Indian Penal Code. Further investigations are ongoing.
-ANI