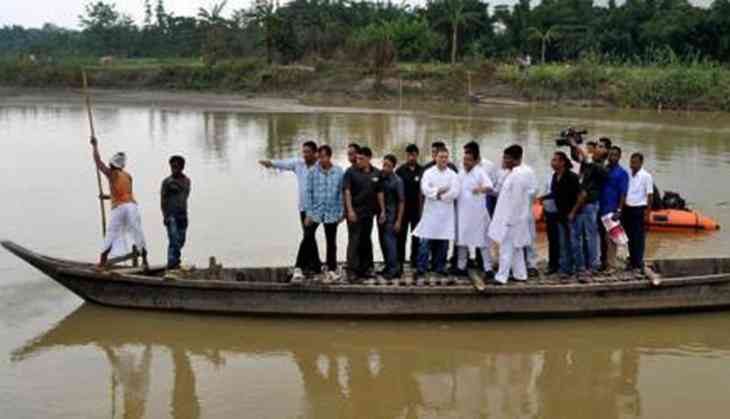 Stones won't stop us from helping people: Rahul Gandhi to PM Modi
After Congress' assertion that 'BJP goons' attacked the Congress vice President's convoy at Dhanera, Rahul Gandhi further attacked Prime Minister Narendra Modi saying such obstacles like raising black flags, throwing stones won't stop them from helping people.
Rahul Gandhi took to Twitter and wrote, "??????? ???? ?? ?? ????? ??, ???? ????? ?? ?? ??????? ?? ?? ???? ???? ???? ???? ???, ?? ???? ???? ???? ????? ?? ??? ???? ??? ???????. (Narendra Modi ji's slogans, black flags and stones will not stop us.... We will put in all our might into the service of people)."
Earlier, Congress spokesperson Randeep Surjewala branded the attack on Gandhi's convoy "disgusting and disgraceful, accusing the ruling Bharatiya Janata Party (BJP) saying the latter must know the truth can't be silenced.
"BJP goons broke Congress VP's car with heavy stones on his way to the helipad after meeting flood victims at Dhanera," Surjewala tweeted.
BJP goons attack Cong VP Rahulji's car in Lal Chowk, Dhanera, Banaskanta, Gujarat. Disgusting & disgraceful. 1/n pic.twitter.com/2lkvtDHsOQ

— Randeep S Surjewala (@rssurjewala) August 4, 2017
Windowpanes of Cong VP's car broken in an organized attack by goons,security staff injured. BJP must know truth can't be silenced. 3/3 pic.twitter.com/Sswntiowf8

— Randeep S Surjewala (@rssurjewala) August 4, 2017
With 218 deaths in Gujarat, 61 in Bansakanta following the floods due to torrential rains last week, Surjewala further lashed out at Prime Minister Narendra Modi and Gujarat Chief minister Vijay Rupani saying the PM only does an aerial visit while CM takes 5 days to visit.
With 218 deaths in Gujarat,61 in Bansakanta alone,PM only does an aerial visit while CM takes 5days to visit.BJP only attacks opposition.2/n pic.twitter.com/pYSufOv3j3

— Randeep S Surjewala (@rssurjewala) August 4, 2017
Rahul Gandhi visited flood affected areas in Gujarat, on Friday, where he was also shown black flags by a group of protesters.
Addressing the villagers and the media, Rahul Gandhi said that he was in Assam the other day, Rajasthan on Friday and now in Gujarat.
Amidst his speech, few people waved black flags to which he asked the guards to let them in, and saying, "I don't care."
"It's a difficult and grievous time for all of you and so I wanted to come amongst you all," he said addressing the crowd.
He added that many people lost their loved ones and homes due to floods and so he wanted to meet them to tell them that the Congress Party is standing with the people of Gujarat.
"It is not our government in Delhi or Gujarat, but we are standing here with you, I am standing here with you and we won't back down due to a few black flags," he said.
The Congress vice-president also visited Rajasthan flood affected areas on Friday morning and said that Chief Minister Vasundhra Raje-led Rajasthan Government is not taking adequate steps to provide relief to people of the state who have been affected by floods.
Gandhi, who was Jalore to take stock of the situation, said he received poor response from people of the state as no rehabilitation work is being done, while adding that his party is trying to facilitate masses to the maximum extent it can.
Thousands of people are still living in shelters in flooded areas. Since July 22, nearly 17 people have lost their lives in the state.
Most of the roads of Rajasthan's Sirohi, Pali and Jalore districts have been blocked and the traffic movement is badly affected due to the massive floods in the state.
-ANI