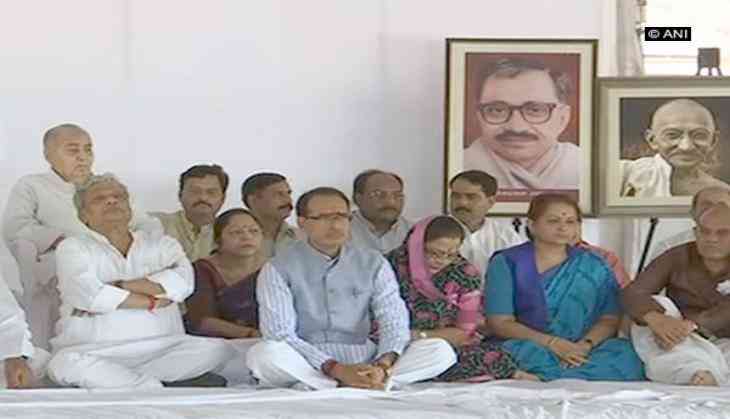 Claiming that the majority of the population in Madhya Pradesh is dependent on farming, Chief Minister Shivraj Singh Chouhan said on 10 June that the state cannot progress without its farmers.
Addressing the gathering in Bhopal, Chouhan, who is on an indefinite fast to restore peace among the farming community of the state, said, "My each breath in last few hours has been taken for the development of Madhya Pradesh, adding that the government's priority was farming in the state. More than 65 percent of our population is dependent on farming. So the state cannot move ahead without the farmers."
Chouhan asserted that after he became the chief minister, farmers got 40 lakh hectares of land which was initially 7.5 lakh hectares only.
Highlighting his various schemes for the farmers, Chouhan further said, "Whenever, there has been a crisis, I did not sit at my office and visited the farmers myself."
He began his 'peace fast' for the solidarity of the state at the Dussehra Maidan in Bhopal where he has invited agitating farmers for talks.
On Friday, the chief minister said, "I am not emotionless. I appeal to the farmers to come forward and discuss all the issues."
Maintaining that his government would deal with miscreants with an iron fist, Chouhan said his fast is an attempt to ensure peace in the state.
Farmers in Madhya Pradesh are demanding better prices for their produce as also a waiver on loan repayments.
Reacting to Chouhan's indefinite fast, the Congress party earlier in the day accused the latter of doing political drama to gain the people's sympathy.
"I do not understand that instead of maintaining law and order which was their responsibility, they fired on farmers. The chief minister is doing these kinds of gimmicks to gain the people's sympathy," Congress leader Jeetu Patwari told ANI.
On the other hand, the ruling Bhartiya Janata Party (BJP)and the opposition Congress have locked horns over the farmers' agitation in Madhya Pradesh, with the former claiming that the latter was behind the chaos and violence in Mandsaur district that claimed six lives.
Congress vice president Rahul Gandhi and Janata Dal (United) leader Sharad Yadav attempted to reach Mandsaur earlier this week to commiserate with the agitating farmers, but police prevented their movement into the area. Rahul Gandhi was even detained by the police under Section 151 of the Indian Penal Code (IPC) before being released on bail after several hours.
He has claimed that the Centre is only firing at the farmers rather than providing them with solace and justice.
Meanwhile, Shivpuri Congress MLA Shakuntala Khatik has been seen on video repeatedly inciting party workers and farmers to burn down a police station in the area, even as she is being requested not to do so.
The video, which has gone viral, may further cement the Bharatiya Janata Party's ( BJP) allegation that the " Congress is instigating farmers for political gain".
-ANI