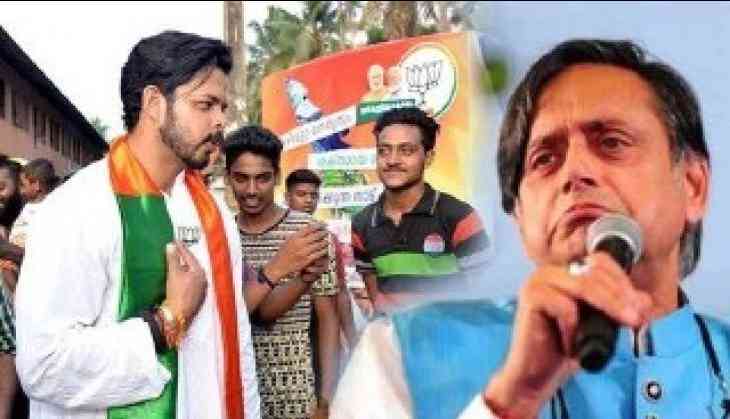 Out of favour Indian cricketer S Sreesanth has said that he would contest the 2024 Lok Sabha polls as a BJP candidate from Kerala's Thiruvananthapuram in order to defeat Shashi Tharoor, who backed him during his tough times.
In an interview with The Indian Express, S Sreesanth said, "I am a huge fan of his (sic) as a person who had stood by me but I will defeat him in the elections in Thiruvananthapuram. No doubt about it."
AlsoRead:http://www.catchnews.com/cricket-news/sreesanth-discloses-why-he-finds-chennai-super-kings-intolerable-174595.html
The 36 year old also went on to mention his time in Tihar Jail and the experience he went through. He also claimed to be innocent.
"Now I am in control and so many good things are happening – from music, movies, books, web-series, cricket, and politics," Sreesanth said.
AlsoRead:http://www.catchnews.com/cricket-news/from-sachin-tendulkar-s-bat-to-virat-kohli-s-jersey-take-a-look-into-shahid-afridi-s-house-174613.html
Previously, BCCI banned S Sreesanth for life for his alleged involvement in spot fixing fiasco during the 2013 Indian Premier League (IPL).
On 15th March 2019, the Supreme Court of India dropped the life ban imposed on Sreesanth, allowing him to play next year.
Former pacer joined BJP in March 2016 and it was during that time that he contested and lost the Kerala Assembly polls from Thiruvananthapuram.
AlsoRead:http://catchnews.com/cricket-news/shikhar-dhawan-slams-pakistan-for-advising-india-on-its-internal-matters-174584.html