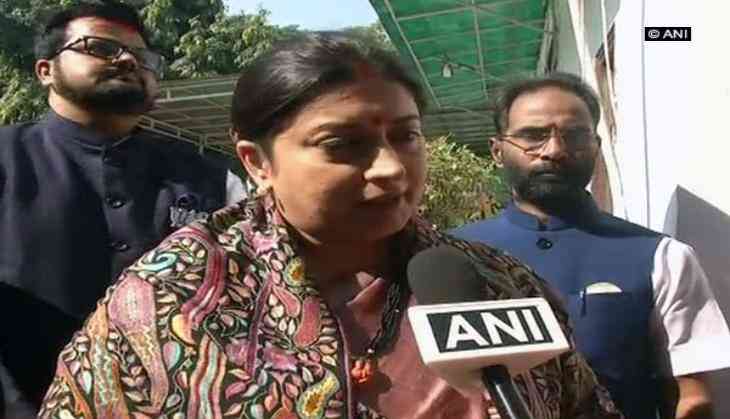 Union Minister Smriti Irani
Union Textiles Minister Smriti Irani on Tuesday launched a scathing attack on the Congress over former Reserve Bank of India (RBI) governor Raghuram Rajan's remarks that most bad loans that account for Indian banks' Non Performing Assets (NPA) originated during the United Progressive Alliance's (UPA) regime between 2006 and 2008.
Addressing a presser here, Irani said, "Rajan's statement proves that it is the Congress who is responsible for the increased NPA. Sonia Gandhi led a government that attacked the very core of the Indian banking system."
The Bharatiya Janata Party (BJP) leader's comments come in the wake of Rajan's written statement in response to a parliamentary panel who sought his views on the current situation of India's banking sector, especially the NPA crisis.
Rajan stated that during the period, "too many loans were made to well-connected promoters who have a history of defaulting on their loans," adding that sanctioning the loans were a "historic phenomenon of irrational
exuberance."
The former RBI governor said that while private sector banks were running out of such promoters, the public sector banks continued financing them. Rajan blamed the public sector banks for lacking alertness while sanctioning the loans.
Irani also cornered Congress president Rahul Gandhi, UPA chairperson Sonia Gandhi and Priyanka Vadra for their involvement in the National Herald scam.
"Their efforts were focused on looting the taxpayers' money. Rahul Gandhi's not-for-profit company, Young India, acquired a commercial company called Associated Journals Limited (AJL). Why a company that is not supposed to be involved in profit or loss making, bought a commercial company?" asked Irani.
The Income Tax (IT) department had informed the Delhi High Court that the All India Congress Committee had allegedly transferred funds to the tune of Rs 99 crore to the Associate Journal Ltd, adding that Rahul had allegedly willfully chosen not to disclose the fact that he held the director's post in the Young India.
The Congress president had challenged the IT department's authority to reopen his tax assessment related to the National Herald and the Young India transactions. On Monday, however, the pleas challenging the IT department's notice seeking tax reassessment for the financial year 2011-2012 were rejected by the court.
Irani aimed a dig at Rahul, saying, "Why is it that Rahul, who is too quick to hug the Prime Minister, would run miles away when it comes to an Income Tax officer."
-ANI