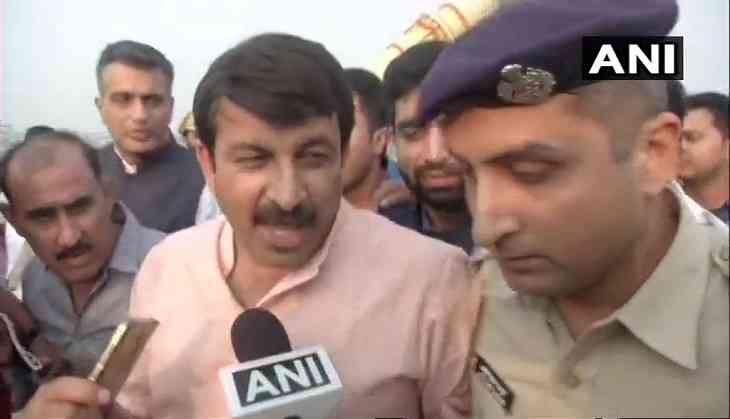 At the inauguration of the Signature Bridge, built under the regime of Aam Aadmi Party, the Delhi BJP chief Manoj Tiwari, entered into a scuffle with AAP supporters, as the BJP legislators were not invited at the launch.
The Signature Bridge is to be inaugurated today by the Delhi Chief Minister Arvind Kejriwal and deputy CM Manish Sisodiya. But Manoj Tiwari, his supporters entered into a scuffle with the AAP supporters at the inauguration of the bridge here in Delhi and the Delhi police was present at the spot.
BJP MP Manoj Tiwari issued a statement after the scuffle and said that, "In my constituency (North East Delhi.), I re-started construction of the bridge after it was stalled for many years & now Arvind Kejriwal is organising an inauguration ceremony."
BJP's Manoj Tiwari, after the scuffle with AAP supporters, at the inauguration of Signature Bridge in Delhi, said, "I was invited to the inauguration event. I am MP from here. So what's the problem? Am I a criminal? Why has the police surrounded me? I'm here to welcome him (Arvind Kejriwal). AAP&police have misbehaved with me."
The Signature Bridge inauguration was scheduled for today and the AAP had published ads all over the state newspapers for the event and it was alleged that the BJP was not invited in the event.
The Aam Aadmi Party member Dilip Pandey has reacted on the incident of the scuffle between Manoj Tiwari and the AAP supporters, saying, "Thousands of people have come here to celebrate without an invitation card, but the MP (Manoj Tiwari) considers himself VIP. He is doing hooliganism. BJP people thrashed AAP volunteers & local people. They are admitted to hospital."
Also read: Signature bridge inauguration: AAP posts picture of Netherlands bridge as 'Signature bridge', BJP exposes
#WATCH BJP Delhi Chief Manoj Tiwari, his supporters and AAP supporters enter into a scuffle at the inauguration of the Signature Bridge in Delhi; Police present at the spot pic.twitter.com/NhvqxudDTT

— ANI (@ANI) November 4, 2018
I was invited to the inauguration event. I am MP from here. So what's the problem? Am I a criminal? Why has the police surrounded me? I'm here to welcome him (Arvind Kejriwal). AAP&police have misbehaved with me: BJP's Manoj Tiwari at the inauguration of Signature Bridge in Delhi pic.twitter.com/DioEmPmjLk

— ANI (@ANI) November 4, 2018