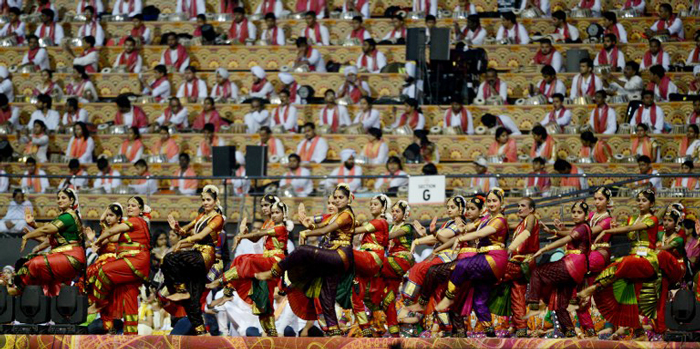 Let me tell you, it's as big as you think, multiplied by 5 crore.
Sri Sri Ravi Shankar's Yamuna floodplains extravaganza called World Culture Fest had an interesting Day 1 today.
What looked like a set piece from Baahubali, the Culture Fest stage would have been great on the silver screen, with all the glitter in place. Except it wasn't.
Elephants guard the gates to #WorldCultureFestival @CatchNews pic.twitter.com/fdnCJu1D5s

- Catch Live (@Catch_Live) March 11, 2016
The stage was set
It did have to its credit Prime Minister Narendra Modi's presence, alongwith 4,500 musicians, 3,400 dancers and Sri Sri himself.
But rather unfortunately for all of them, the show-stealer was rain. The skies opened almost biblically on the jubilant crowd that cheered every thunder and lightening strike.
A rainbow appeared to the war cry of "It's a miracle".
The magnificent rainbow dwarfs the opulent #WorldCultureFestival #EnvironmentWins @CatchNews pic.twitter.com/FenSh4m4cH

- Durga M Sengupta (@the_bongrel) March 11, 2016
Rained on the parade
All separations and and banners were broken or washed away by the rain and hail storm. Human barriers (made largely of tired interns) tried hard to separate the VVIPs from the oh-so-frees.
A lady, standing under the plastic sheet where I'd placed my bag looking thrilled at the commotion, suddenly commented, "Gurudev bhed-bhav nahi chahte. Tabhi barish ho rahi hai."
(Sri Sri doesn't want to differentiate between the rich and the poor. That's why it rained.)
To which all my other plastic sheet co-inhabitors chanted, "Jai Gurudev!"
A lady prays as hymns are chanted at #WorldCultureFestival @CatchNews pic.twitter.com/GzWLozbIwV

- Catch Live (@Catch_Live) March 11, 2016
The glazed look of adoration towards Gurudev was a common theme at this party. Right from cotton-sareed ladies shouting "Jai Gurudev" into their phones due to bad network, to kids picked up from the rain-blessed mud by their parents with a milder version of a chant invoking the Guru, the smiley Gurudev looking down at us from every banner was omnipresent.
The reluctant intern
While his fan-following cannot be denied to him, to say that Sri Sri doesn't differentiate is a bit of a stretch.
As an intern at the site, Shashank from Delhi University, said, "All the front seats are paid for."
"If you want a place next to Sri Sri, cough up Rs 1 lakh. And if you want to get on the stage, it will cost you at least Rs 21,000."
While Shashank explained this fascinating mathematics to me, a man who had overheard the conversation caught him by the tail. "Look at this message," he said, wildly gesticulating towards this phone.
"It says I have paid Rs 34,000 and this is the confirmation. But I'm still not in the VVIP area!"
Pay RS 1 lac to sit next to Guruji, RS 21K to be close to the stage. Money matters at #WorldCultureFestival @CatchNews

- Durga M Sengupta (@the_bongrel) March 11, 2016
After pointing the gentleman in the right direction, Shashank sighed. "I'm tired. These Art of Living guys came to our college for internships. They hired every single person who showed up."
"From there on, we have just been promoting this event everywhere. They've even made us dance, with Raahgiri."
On being asked if he saw the irony in an environment initiative like Raahgiri associating itself with World Culture Festival, notorious for the harm it has caused the Yamuna, Shashank nodded.
"Yes, it's ironic. But this is my job."
But Shashank was one of the few not awed by this spectacle. Right from policemen stepping on toes to get a zoomed up pixelated picture of Modi, to completely drenched women meditating in the middle of all the chaos, the atmosphere was electric, heightened perhaps by the sudden showers.
With love, for Sri Sri
As a chattering bunch of Art of Living volunteers told me, "We love it."
Nimisha, Anjali and Srishti, AOL volunteers from Bulandsahar are three among thousands who have worked to make this festival happen.
"As you heard our Gurudev. We are one family," said Nimisha. While talking about the enormous amount of work done by some of them, right from putting the stage and venue together, Srishti proudly said, "We don't know everyone. But we all work together."
But before I could ask Anjali any questions, she quickly asked me, "Have you ever done Art of Living course?"
"Not really," I said. "I did do the junior course as a child."
"That's it. Just do it. It will change your life."
Was told #WorldCultureFestival is my 'private' party. It is. Because the world is my family, says #SriSri @CatchNews

- Catch Live (@Catch_Live) March 11, 2016
I didn't have the heart to tell them that I was grossly disturbed by what they loved. That the stinking Yamuna drain that I had to cross to get to the main road seemed completely at odds with their idea of 'Vasudhaiv Kutumbakam'. And that even after having genuinely enjoyed some of the performances, I couldn't look away from the opulent stage that they were performed on.
Also seen at #WorldCultureFestival @CatchNews pic.twitter.com/6MW9aYj6Sv

- Catch Live (@Catch_Live) March 11, 2016
-- Edited by Abha Srivastava