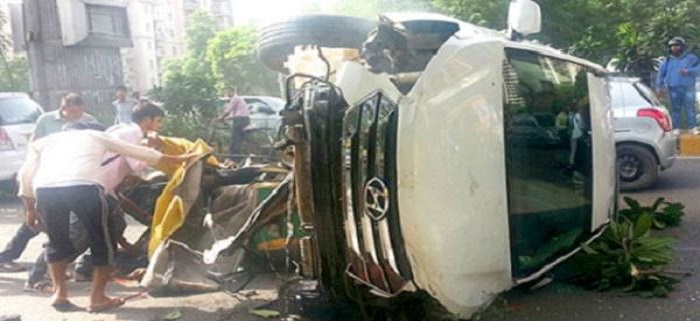 In an apparent gang war, a gangster and his driver were shot at, outside Central Mall in Gurgaon on 15 July. It has emerged that the police has a put a reward for Rs 50,000 on the suspects. Apart from that, three country made pistols have also been recoverd from the site of the accident.
The shootout
During the shootout, a bullet missed Rakesh Hayatpur, an alleged gangster and hit the driver, who lost control of the vehicle and rammed into an auto rickshaw.
The impact of the collision was so high that it completely crushed the auto claiming life of the driver.
Hayatpur's driver got critically injured and was taken to Artemis hospital.
At the time of incident, two personal security officer officers were also present inside the car.
Hayatpur has several cases registered against him and this shootout seems to be a case of gang rivalry.
The attackers had come in a black Santro car which had a Uttar Pradesh registration number on it.
The MG road has been sealed due to the incident and the traffic has been diverted to other routes.
Reportedly, one rickshaw puller has also died in the incident.