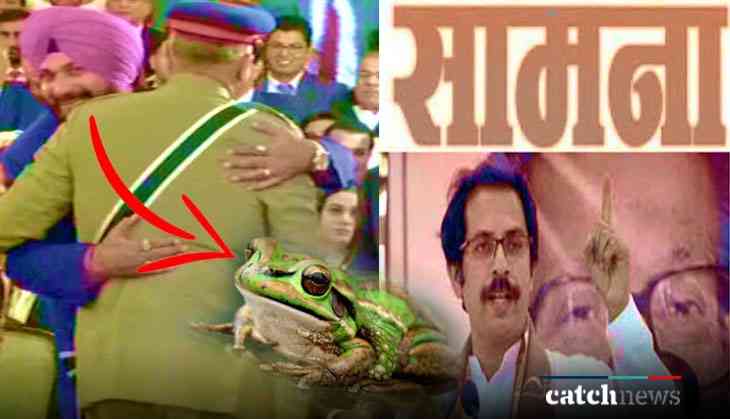 The Uddhav Thackeray led the party, Shiv Sena full-fledged criticises Congress' Punjab Minister Navjyot Singh Sidhu for visiting Pakistan to attend the sworn-in ceremony of Pakistan's newly elected PM Imran Khan and for hugging Pakistan Army Chief General Qamar Javed Bajwa in its mouthpiece Saamna. In its editorial in Saamna, it said, Bajwa, who has killed 15 Indian Army soldiers including Major Kaustub Rane in the last 15 days, was hugged by Punjab Minister Sidhu. It called it "heights of shamelessness". It title its as 'Sidhu gone mad'.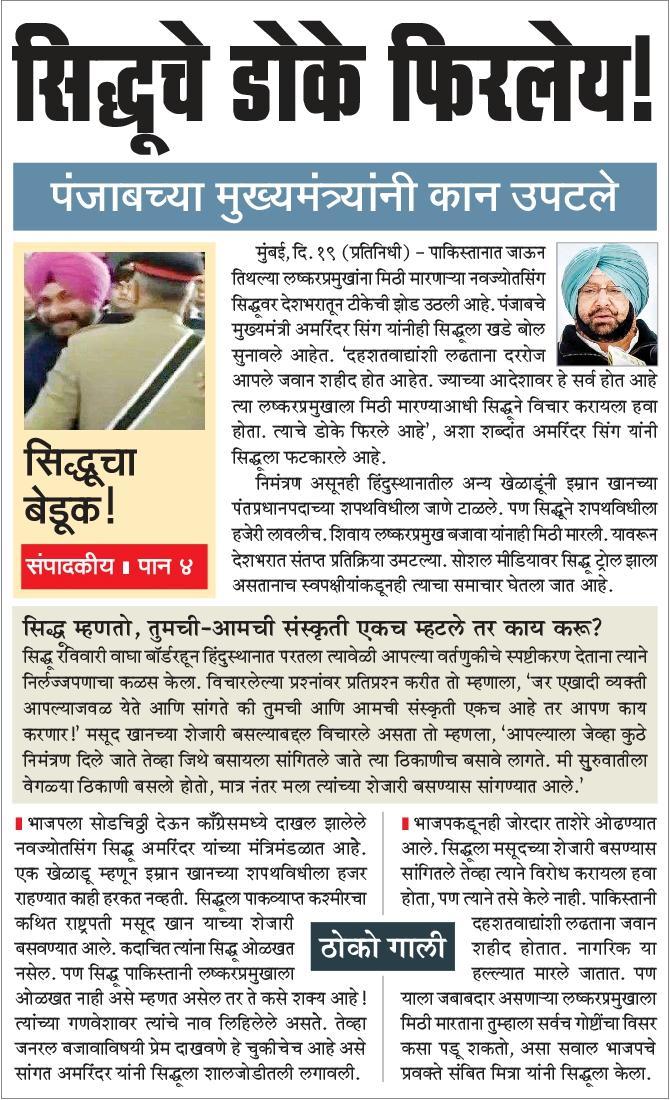 Other than Sidhu, it also took a dig at the BJP, stating why Sidhu was not labelled as a traitor, even though people were termed "anti-national" for opposing demonetisation and criticising Prime Minister Narendra Modi.
"Sunil Gavaskar and Kapil Dev were also among the special invitees for the swearing-in ceremony but they rejected it. On the other hand, Sidhu jumped on the offer. This act in itself burst the balloon of his love for the country," read the editorial.
The Marathi daily also called it as 'Sidhu's frog' (Sidhu ka Mendak) and 'Thoko Gali' mocking the cricketer turned politician. It also further slammed Sidhu calling him 'Begani Shadi Mien Abdulla Deewana." it said, "His face was shining with satisfaction after hugging the Pakistan army chief. He behaved as if he was not just an invite but the chief guest. There was no need for Sidhu to create this controversy and accept the invitation. He acted like Begani Shaadi mien Abdulla Deewana."
"Who is going to benefit from Imran's elevation? He is just a mask, it is the Pakistan Army that is going to be in power. Then (in that context), Sidhu hugging its Army chief is a crime," it said. "His actions are weakening Rahul Gandhi's position," the Marathi daily said. Sidhu is in Congress now, but he has his political origin in BJP, it further added.
Also read: 2007 Gorakhpur riots: SC issues notice to UP govt in a connection to CM Yogi's hate speech in 2007; asks why he should not be prosecuted