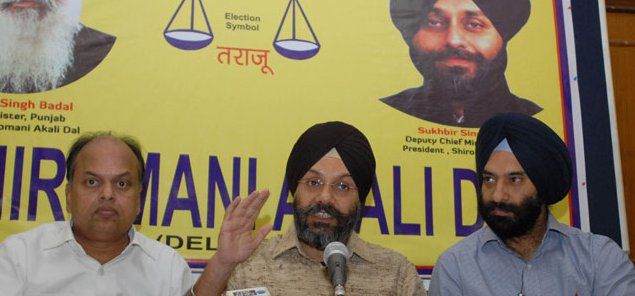 Shiromani Akali Dal (SAD) today asked the Sikhs to reject 'anti-panthic and anti-Punjab forces' saying they wanted to destroy the institution of Akal Takth to divide and weaken the community.
Led by party Secretary General Sukhdev Singh Dhindsa, SAD leaders Ranjit Singh Brahmpura, Balwinder Singh Bhundurand and Dr Daljit Singh Cheema jointly said it was clear from the recent events that some vested interests were exploiting Sikh sentiments arising out of the ghastly incidents of sacrilege.
"These forces must know that the incidents of sacrilege were planned and executed by anti-national forces and they should not play into the hands of such forces," they said.
Asserting that convening of 'Sarbat Khalsa' by a section of Sikhs at Amritsar on November 10 was a "direct challenge" to the Akal Takth, Dindsa said, it would only result in taking the State back to the earlier turbulent times.
The move was against the interest of peace loving Punjabis as well as the Sikh community which did not want the return of the old dark era at any cost, he added.
Stressing that the Akal Takth was supreme, the SAD leaders made an appeal to the organisers of the congregation planned for November 10 not to do anything which would harm the great institution.
"The Sikh community has protected this institution from various conquerors who wanted to destroy Sikhism by targeting the Akal Takth. No one could succeed in destroying the Sikh spirit," they said.
The leaders also asserted that the Sikh community has always united as one against oppressors.
-PTI