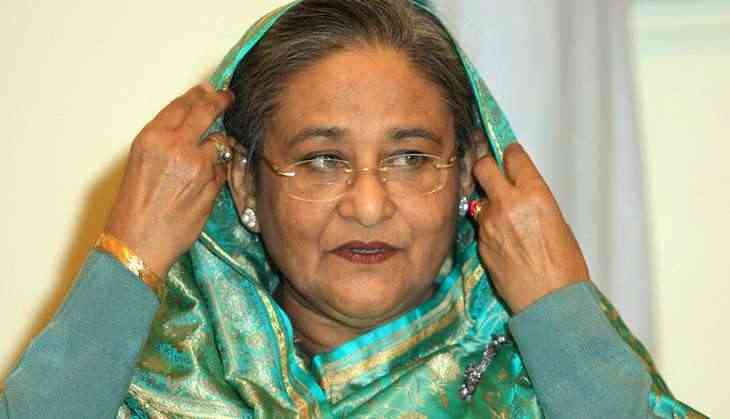 Embarking on her four-day state visit to India on 7 April, 2017, Bangladesh Prime Minister Sheikh Hasina has said that she expects bilateral relations between the two nations to touch new heights of cooperation, and added that she would renew her efforts for the signing of a deal to share waters of the River Teesta.
She said both India and Bangladesh do have issues that need to be resolved, but also share a cultural heritage and common Bangla language between Bangladesh and West Bengal.
She recalled the political will shown by the two governments to implement the Land Boundary Agreement (LBA) after more than 40 years.
She said,"There are a lot of commonalities (at least with West Bengal). We share our Lalon, Rabindranath, Kazi Nazrul, Jibanananda; there is similarity in our language, we are nourished by the waters of the Padma, Brahmaputra, Teesta and so on. The Sundarbans is our common pride. We don't have any strife over it. Then, why should there be any contention over the waters of common rivers?"
She described herself as being optimistic and having the trust that India would not allow the existing goodwill between the two countries to take a hit in the short as well as the long term.
During her visit, the Bangladesh Prime Minister is expected to have one-to-one and delegation-level talks with Prime Minister Narendra Modi. She will also meet West Bengal Chief Minister Mamata Banerjee twice and call on President Pranab Mukherjee.
She said, "Cooperation between Bangladesh and India has been bolstered manifold. Rail, road, and waterway connectivity has been boosted. Trade, commerce and investment (has been) maximised. People-to-people contact also got momentum and "such mutual cooperation is definitely benefitting our people."
"Relations, at a personal or national level, largely depend on give-and-take measures," she added.
-ANI