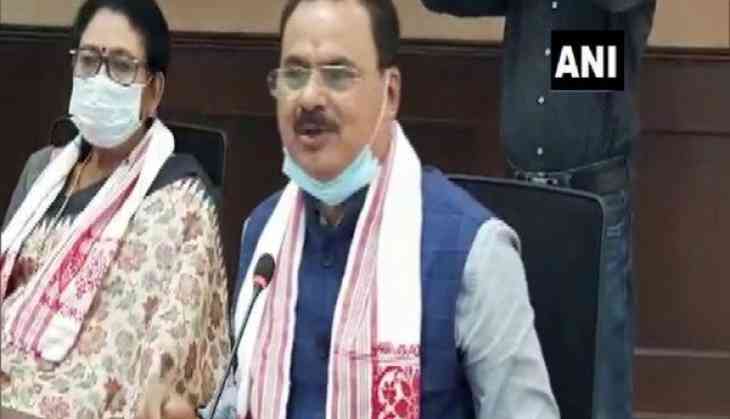 Assam MLA Chandra Mohan Patowary (ANI)
It was not an emotional outburst of any COVID-19 affected victim, trying to find solace in a weird explanation as nothing worked when people were dying and no reasonable help was coming. Health infrastructure had crumbled and the Centre and State government failed miserably to gauge the impact of the second wave of coronavirus.
Shockingly, this was a statement made by a minister in Assam whose responsibility is to help people fight this disease, and inspire the confidence of the people in the vaccine and the need to follow COVID appropriate behaviour.
God's Supercomputer decides death and infection: Chandra Mohan
A minister in Assam has gone on to declare that the Covid-19 was a creation of God's supercomputer, which decides who would get infected with the virus and who would die of the deadly disease. Chandra Mohan Patowary said this on Wednesday at an event to distribute financial assistance to beneficiaries under a state government scheme for widows of Covid-19 victims at Amingaon in Guwahati.
"Nature has decided who would get infected, who won't and who would be taken away from Earth. This is happening from God's supercomputer, which is not man-made. The computer decided on sending COVID-19 virus to Earth with 2 per cent mortality," said Patowory.
Humiliation of scientists, WHO
Patowary also added that the World Health Organization (WHO) and its scientists had failed to find a medicine to eradicate this virus and nature had started a war against humanity.
Efficacy of vaccines questioned
"Where are the scientists who lectured everyone on Covid? They failed to find a medicine to eradicate it. People are dying even after taking the vaccine. Nature has control over this disease and only it can rectify it. We started a war against nature and has started a war against us too," said the senior minister.
At a time when Prime Minister Narendra Modi and his government is making all efforts to vaccinate the maximum number of people by the end of the year, shocking statements from some leaders severely hurt the cause.
Further, if this is the thinking of any leader, you can't expect much from him in terms of strengthening medical infrastructure to fight the covid cases. If India witnesses the third wave, children are likely to be the prime target.
Action must be taken against those who harm humanity by spreading wrong information while being in the government.
(With ANI inputs)