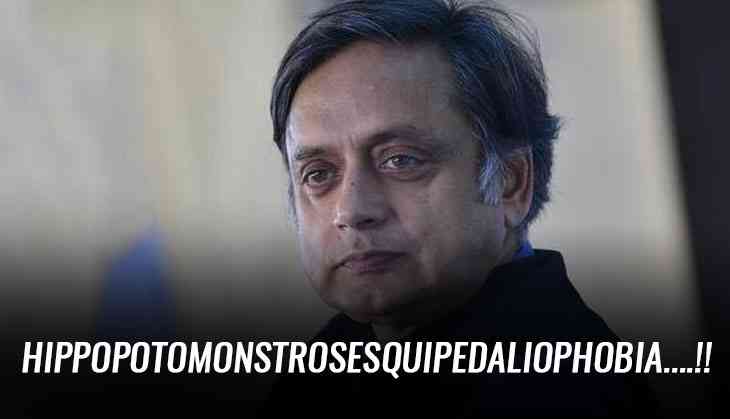 The Congress MP Shashi Tharoor is always known for his bombastic Tharoorian words. On Wednesday Shashi Tharoor introduced his book "The Paradoxical Prime Minister" on PM Narendra Modi on Twitter. The moment he tweeted about his book, Tharoor introduced it with his newly-invented "floccinaucinihilipilification" or "the action or habit of estimating something as worthless" from the Tharoorian dictionary.
Floccinaucinihilipilification left tweeple in a state of shocked and surprised both the same time and rushing to find the meaning of this 29 alphabetical word. Apologizing to his fan for using floccinaucinihilipilification and leaving them in a wonder he took to Twitter and said 'Sorry'.
I'm sorry if one of my tweets y'day gave rise to an epidemic of hippopotomonstrosesquipedaliophobia!
[Don't bother looking it up: it's just a word describing a fear of long words].
But #TheParadoxicalPrimeMinister contains no words longer than Paradoxical! https://t.co/8h0zkcHnb2

— Shashi Tharoor (@ShashiTharoor) October 11, 2018
He wasn't done. Sorry, he said, if his first tweet sparked an epidemic of "hippopotomonstrosesquipedaliophobia". He kindly added a definition: "It's just a word describing a fear of long words".
Tharoor's vocabulary is always something that fetches attentions of his followers. Thanks to him, we looked up "farrago" and "Lalochezia". In fact, he once used a difficult word to explain how he chooses words. Tharoor's Tharoorian dictionary is which had given us a lot of new and unique vocabulary. On Twitter user's take on that: "Haha...a clarification that needs a clarification!"
Also read: #MeToo: Rahul Gandhi speaks on #MeToo movement; Congress chief says 'truth needs to be told loud and clear'