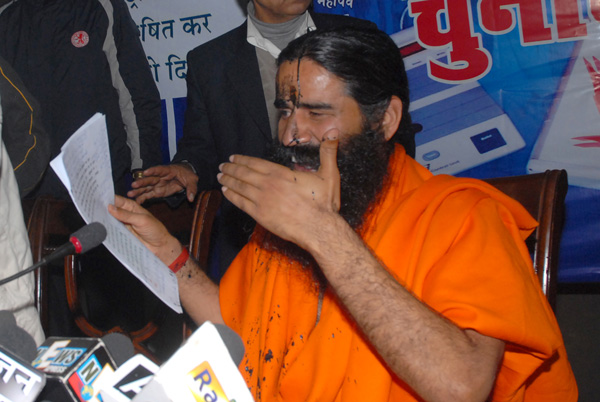 Yoga guru Baba Ramdev has jumped into the controversy stoked by Shahrukh Khan's comments on rising intolerance in the country. Attacking the actor, he said that if the actor is genuinely concerned, he must return his Padmashree, the fourth highest civilian award given by the state of India.
The Times of India quoted him as saying: "Sab hawabaazi hain (All these are empty talks). If Shahrukh is really concerned, he must give up his Padmashree Award. If he is willing to protest, he must also make a draft of all the money he made after winning the award and donate it to the Prime Minister's (relief) fund".
Ramdev's comments came after BJP MP Yogi Adityanath said that there was no difference between the language used by the Bollywood superstar and Laskhar-e-Taiba chief Hafiz Saeed. Yesterday, BJP General Kailash Vajayvargiya said: "It seems that although he lives in India, his aatma (soul) is in Pakistan." He further accused Khan of being a part of a larger international conspiracy against the Narendra Modi government. However, later he retracted his statement saying Khan was the second most loved actor after Amitabh Bachchan.