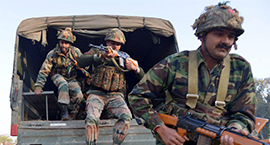 Several suspects connected with the terror attack at the Pathankot air base on 2 January have been tracked down and arrested in Pakistan's Punjab province, reports The Economic Times.
A Pakistan official from the Interior Ministry told BBC Urdu that "the raids were conducted in Sialkot, Gujranwala, Jhelum and Dina cities in Punjab province during the last two days, and some suspects were arrested."
Pakistan has also begun investigations into the five phone numbers called by the terrorists after they entered India, which had been provided to the country by India. Teams of police and other law-enforcers are conducting raids across the country, especially in central Punjab cities.
"It is suspected that the arrested people have been in contact with the alleged extremists in the near past," the official said.
Since the suspects were on the run and had stopped using these SIM cards in their mobile phones, this investigation will begin from the points where they had last used these SIM cards.
The mobile numbers have been included in the 18 February FIR filed against unknown people by Pakistan in the Pathankot attack, said Interior Minister Chaudhry Nisar Ali Khan.
India lost seven defence personnel when terrorists suspected to be from the Pakistan-based Jaish-e-Mohammad attacked the Pathankot air base on the night of 2 January.