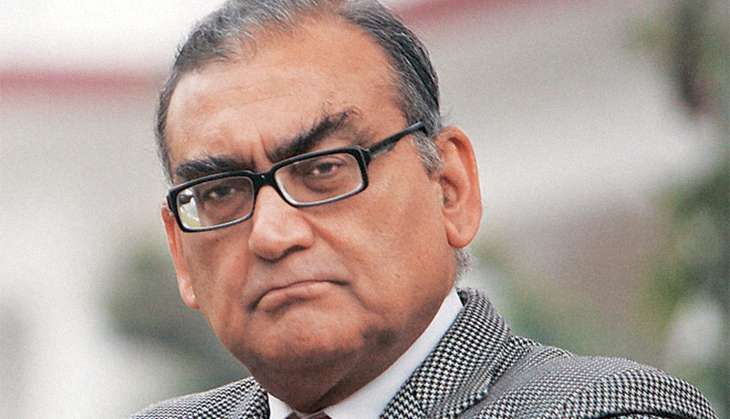 As the row over his remarks on Bihar raged on, former Supreme Court judge Markandey Katju has been booked on charges of sedition following a complaint by a Janta Dal (United) MLC against his online post that Kashmir should be offered to Pakistan on the condition that it takes Bihar too.
Another complaint was also filed on 28 September in the district court against Katju, who hit back at Chief Minister Nitish Kumar for his critical remarks and churned out more taunting posts.
Katju has been booked under 124-A (sedition) and other sections of IPC, according to a PTI report.
JD(U) MLC and its state spokesman Neeraj Kumar had last evening lodged a complaint in the police station against Katju seeking his prosecution for alleged sedition. Meanwhile, lawyer Arvind Kumar filed a petition in the court of Patna Chief Judicial Magistrate (CJM) Om Prakash against Katju.
The complaint sought registration of a case under sections 124(A) (sedition), 500 (Punishment for defemation), 501 (Printing or engraving matter known to be defamatory and 505 (Statements conducting to public mischief) of IPC. The date for hearing the plea is yet to be decided.
Katju's comments on Facebook about Bihar have drawn sharp criticism here. Offering a package deal to Pakistan, Katju wrote on social networking sites that Pakistan could get Kashmir if it was ready to take Bihar as well.
Chief Minister Nitish Kumar had ridiculed him for trying to become 'Mai-Baap' (guardian) of the state. His comments had also invited the wrath of Deputy Chief Minister Tejaswi Prasad Yadav, former Chief Minister Jitan Ram Manjhi and JD(U) leaders KC Tyagi and Shyam Rajak among others.
Though Katju had sought to backtrack on 27 September after a barrage of protests by writing on his Facebook account "I was only joking about Bihar", he continued with his jibes on social media.
"I suggest Biharis should take their complaint against me to the UN. "When 'cheer haran' of Draupadi was being done, she appealed to Lord Krishna to save her honour," said Katju.
-PTI