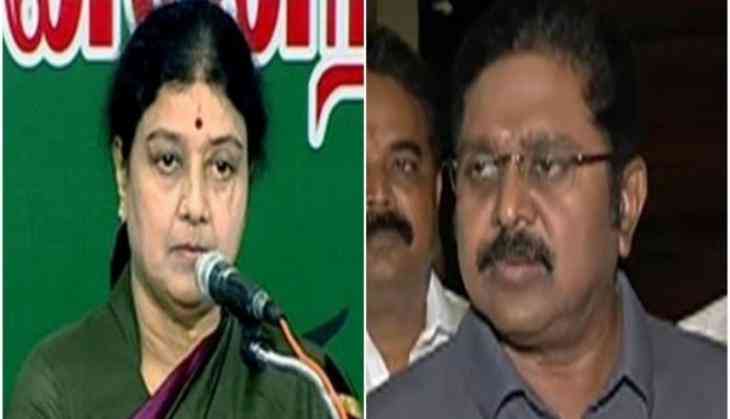 Sasikala Pushpa to meet EC seeking disqualification of Dinakaran, Sasikala Natarajan from contesting (ANI)
Chief Election Commissioner Nasim Zaidi on Tuesday will be meeting Member of Parliament (MP) Rajya Sabha Sasikala Pushpa who is seeking the disqualification of deputy general secretary of All India Anna Dravida Munnetra Kazhagam (AIADMK) TTV Dinakaran and interim General Secretary of AIADMK Sasikala Natarajan from contesting any polls.
Pushpa is going to submit a memorandum seeking disqualification of Dinakaran and Sasikala Natarajan from contesting in any polls and declare their occupancy in AIADMK as office bearers as null and void. After meeting the poll body she will later meet the media outside ECI office.
The RK Nagar by-polls were earlier scheduled to be held on Wednesday but got canceled after Income Tax raids in Chennai found that money was distributed to the voters.
The Election Commission said that the by-elections shall be held by the poll panel in due course when the vitiating effect created by the distribution of money and gift items to allure the electors gets removed with the passage of time and the atmosphere in the constituency becomes conducive to the holding of the free and fair election.
The by-elections in R.K. Nagar became necessary after the death of former chief minister J. Jayalalithaa, who represented it for two terms.
On Friday, the Income Tax officials raided several premises belonging to Tamil Nadu Health Minister C. Vijayabaskar and his relatives in Chennai and other districts in the wake of complaints that he was involved in a cash distribution to the voters in the R.K. Nagar constituency ahead of the April 12 by-polls.
The Income Tax (IT) authorities have issued summons to Vijayabaskar to appear before them today in connection with the raid on his premises on Friday.
The IT department also conducted searches on the premises of actor and All India Samathuva Makkal Katchi leader R. Sarathkumar, former AIADMK legislator Chitlapakkam Rajendran and vice-chancellor of Dr. MGR Medical University S. Geethalakshmi.
-ANI