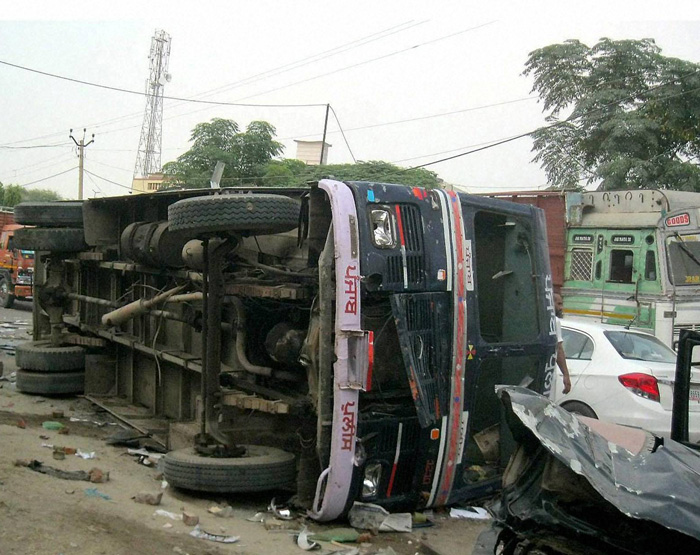 Paramilitary forces were today deployed in four districts of Punjab as a precautionary measure even as another incident of "sacrilege" of a holy book took place at a village in Bathinda.
Sikh outfits, continued to stage dharnas at several places in the state against incidents of sacrilege."Paramilitary forces have been deployed in Amritsar, Jalandhar and Ludhiana and Taran Tarn district of Punjab," Amritsar Police Commissioner Jatinder Singh Aulakh said today.
Also read: Sacrilege incident in Punjab, perpetrator arrested
Total 10 companies of Para Military Forces have been sent to these districts keeping in view of the sensitive situation, he said.
Meanwhile, yet another case of sacrilege of Guru Granth Sahib took place at Gurusar Mehraj village in Bathinda district, police said.
"Some pages of Guru Granth Sahib was found to be torn.The situation in village is tense," police said.While in Tarn Taran, a man was caught and beaten up by agitated community members for allegedly trying to commit sacrilege at a gurdwara in Nagoke, police said.
The man identified as Malkit Singh (34) of village Bule Nangal was taken away by three youths who are not traceable, police said.DIG Kunwar Vijay Pratap Singh said that a FIR has been registered against the three youths at Police Station Verowal.
He claimed that the man caught by the villagers had by then done no harm to the Gurdwara or Guru Granth Sahib.However, after nabbing the man, the villagers instead of handing him over to the police, had taken him away to be handed over to the self-styled 'Satkar Committee,' the DIG said.
Meanwhile, protest by Sikh activists against unabated incidents of sacrilege in different parts of state continued by way of blocking state and national highways, police said.Expressing resentment over the developments in the state, resignation contiued as former Budhladha MLA Mangat Rai Bansal quit the Akali Dal.
The continuing disturbed situation has started having fall out on general life, officials said.Police have intesified patrolling while SGPC members are keeping a vigil on holy book placed in various gurudwaras in the state.
Punjab is under turmoil after series of incidents of sacrilege of 'birs' (religious scriptures) of holy uru Granth Sahib, first reported early this month from Bargari village in Faridkot which led to a violent clash between sikh protesters and police leaving two persons dead.