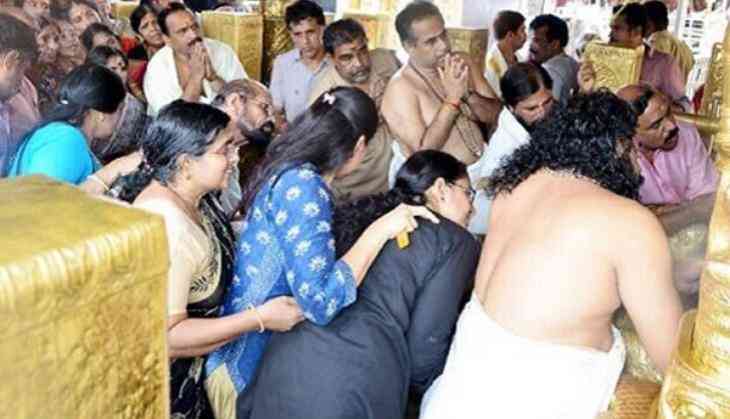 Two women devotees reach Sabarimala Temple on its opening day were sent back by protestors in Kerala today. One woman from Kerala and another from Andhra Pradesh, were among the first women to enter in the Sabarimala temple in Kerala on Wednesday.
Unfortunately, they were stopped by protesters on their way. They had managed to walk only a few hundred metres. Meanwhile, the police shielded her from a group of protesters who had surrounded her at Pamba, 65 km from Sabarimala.
The woman, Libi CS from Kerala, is a journalist. Hours before her trek, she had published her plan on Facebook to visit the Sabarimala temple on opening day.
The protesters apparently saw her post and decided to block her the moment she started walking towards the Lord Aayyappa temple, where entry of women of menstruating age between 10 and 50 has been allowed by the Supreme Court, by up lifting a centuries-old ban.
"Friends, four of us are leaving to Sabarimala today, which includes atheists like me and two devotees," the journalist, Libi CS, wrote on Facebook on Tuesday.
Kerala Police have detained people protesting against the entry of women in the age group of 10-50 women in Sabarimala Temple.