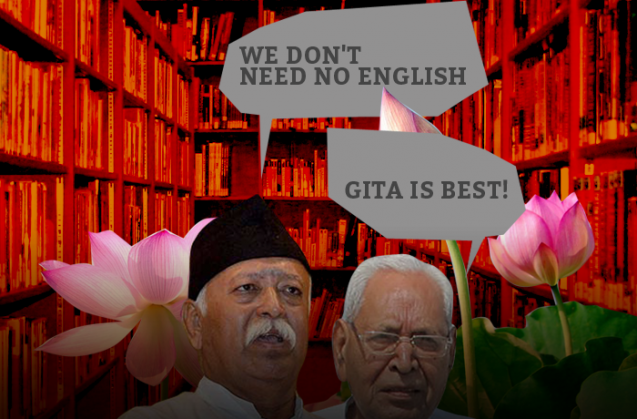 The Human Resources Development Ministry, headed by Smriti Irani, has invited suggestions for the formulation of the New Education Policy, which they hope to roll out in 2016.
The Rashtriya Swayamsevak Sangh (RSS) has not failed to send in its 'suggestions'. This time around, the outfit is batting for 12-hour school days for students in metropolitan cities. The RSS also proposes that students be taught Sanskrit and other languages from the middle-school level.
The education wing of the RSS, the Vidya Bharati, has given the following reasons for making Sanskrit compulsory from middle school:
1) If students learn Sanskrit from middle school onward, they will be able to speak and write their mother tongue perfectly
2) This will remove the need to use foreign words
3) Learning Sanskrit will improve the students' spelling and pronunciation skills
4) Children should be taught various languages as it is easy for them to grasp languages at a young age
Here are their reasons for suggesting 12-hour school days:
1) The above mentioned "language training" will be not possible in the current six-hour timing
2) In metros where both parents work long hours, this will save parents from the exercise of making children do homework
3) 12-hour days will also remove the need for tuitions
4) Extended school hours will also give students more time to pursue extra-curricular activities like sports, music, singing and dancing
Interestingly, the RSS has one condition - no co-education during extended school hours. The proposal reads: "At a time when the co-ed schools face numerous issues, 12-hour classes cannot have both girls and boys together".
RSS and their previous suggestions' to the HRD ministry
This is not the first time that the RSS has made suggestions to the HRD ministry.
According to reports, Smriti Irani has had at least six meetings with the top-level RSS leaders in 2015. Most of the suggestions and views expressed by the RSS regarding the education policy in India have courted controversies for bearing a heavy Hindu agenda.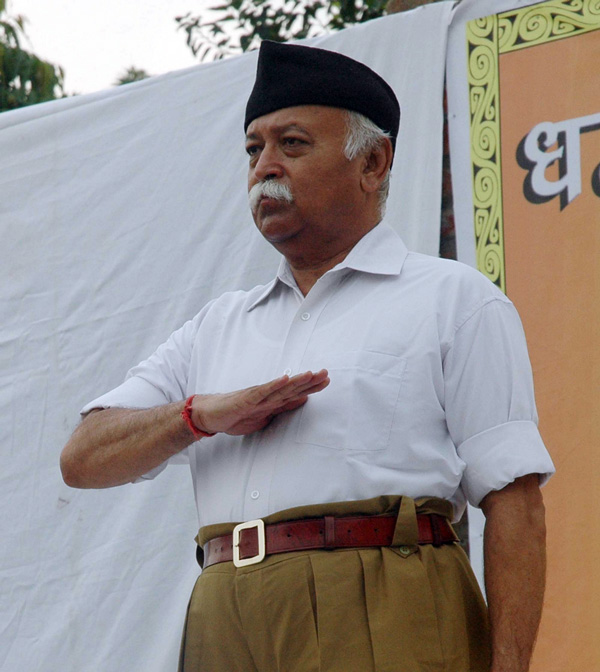 Here's a quick look at the RSS' suggestions for the Indian education policy - that has been largely designed by the UPA regime.
English education is for donkeys
In December 2015, RSS chief Mohan Bhagwat said that education in English was insufficient to teach humanitarian and patriotic values. He quoted Veer Savarkar and said:
"If I cannot spread the fragrance of my education for the betterment of our country, then my education would be useless... Even donkeys can go around bearing the weight of books".
Background: In BJP-governed Goa, with a large Catholic population, the Indian Languages' Protection Organisation or the Bharatiya Bhasha Suraksha Manch (BBSM) wants the government to end grant-in-aid to English-medium primary schools.
Meet Gita, she'll teach you moral education
In November 2015, RSS ideologue and Haryana government's school and higher education consultant Dina Nath Batra said that education needed a saffron tinge.
"Saffron is made of a mixture of red and yellow. Red is symbolic of bravery while yellow symbolises patience and prosperity. Hence, we need this kind of education," he said.
Background: During a meeting chaired by Haryana Chief Minister Manohar Lal Khattar, Batra expressed that he wished to saffronise education across India. Batra also said he wanted the Bhagwad Gita to be taught as a moral education subject from Class 6 to 9. If things go Batra's way, every student will be taught a compilation of two shlokas from every chapter of the Gita.
Who needs the army? War studies will do the job
In September 2015, an article in the RSS mouthpiece, Organiser, alleged that India's defence considerations were "too government-centric".
"As Kautilya said, the strength of a nation lies in the people. Our defence considerations are too government centric," it says.
Background: In one of their editorial pieces, RSS has stressed on the need to introduce a subject on war studies into the curriculum. RSS claims that despite the strength and size of the Indian armed forces, a subject on war studies will encourage more people to participate in counter-terror pursuits.
Blasphemy in IITs, IIMs
In July 2015, the RSS mouthpiece, Organiser, alleged that IITs were turning into hubs for anti-Hindu and anti-India activities. "
"IITs are turning into places for anti-Hindu and anti-India activities. Faculties with low moral are misguiding students," the mouthpiece claimed.
Background: The RSS seem to be rather doubtful of the 'ideological control' that Indian institutes like IITs and IIMs enjoy. The saffron outfit has been pushing the HRD ministry to pass a bill that will take the control of IIMs from their board of governors. In the same editorial article, Organiser slammed IIT Roorkee for serving non-veg food in the holy city of Haridwar and IIT Rourkela for preventing students from performing puja in the community hall.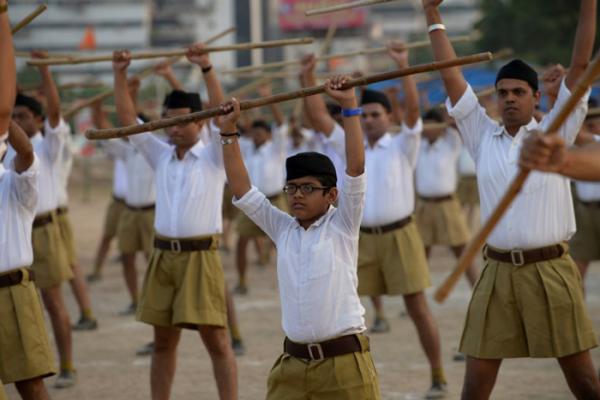 Incomplete Indian history? Let's go to court
In July 2015, the West Bengal general secretary of the RSS, Dr Jisnu Basu, said Kolkata madrasas were teaching distorted versions of Indian history.
"It is not fair as despite being deprived of the true history of India, these (madrasa) students are granted certificates that are at par with their Madhyamik counterparts," Basu had then said.
Background: The RSS is of the view that madrasas in Kolkata - and everywhere else - are teaching students an incomplete version of Indian history. The saffron outfit wants to take madrasas to court for this reason.