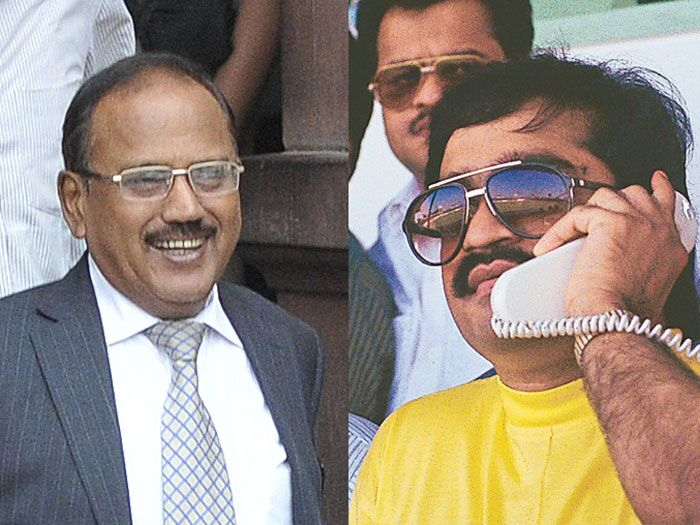 A 2004 diplomatic cable leaked by Wikileaks shows that the Mumbai Police botched up an operation to kill underworld gangster and Mumbai serial blast mastermind Dawood Ibrahim.
This revelation also vindicates former Home Secretary RK Singh's claims about the bungled up operation to nab Dawood.
Singh who was the Home Secretary between 2011-2013, had recently revealed in an interview to India Today that, "a group was being trained to target Dawood, but he had people in the Mumbai Police on his 'pay roll' who were alerted. Mumbai Police came saying there is a warrant against them. But I cannot say it is confirmed. I have just heard...I don't have evidence."
Maharashtra Chief Minister Devendra Fadnavis was quick to respond to the revelations made by Singh and said: "It's a very serious allegation and, if substantiated, we will hold an inquiry."
Interestingly, the plot to nab Dawood was hatched weeks before his daughter's much-publicised wedding reception in Dubai in 2004. National Security Adviser Ajit Doval had a major part to play in it.
Here's how the events unfolded according to the Wikileaks cables which Catch News has managed to access:
1. In early July, a group of Mumbai policemen traveled to Delhi in search of Vicky Malhotra, an underworld figure charged with numerous crimes, including murder, extortion and smuggling of arms.
2. On July 11, the Mumbai police arrested Malhotra while he was driving through central Delhi.
3. To everyone's dismay, Malhotra was accompanied by Ajit Kumar Doval, former head of the Indian Intelligence Bureau (IB).
4. Malhotra and two associates were picked up and taken to Mumbai. They now face criminal charges. Doval was allowed to go free.
What was Ajit Doval's role?
1. Questions were raised, as to what a former IB officer was doing with an underground gangster.
2. It later emerged that Malhotra was the right hand man of underworld don Chhota Rajan, an aide- turned-rival of Dawood.
3. The media originally speculated that the IB wanted to use Malhotra to target and kill Dawood, assuming the former would travel to Dubai to attend Dawood's daughter's wedding reception.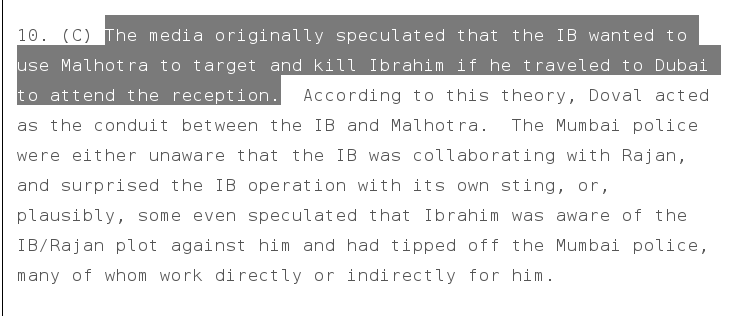 4. Doval was supposedly acting as the conduit between the IB and Malhotra.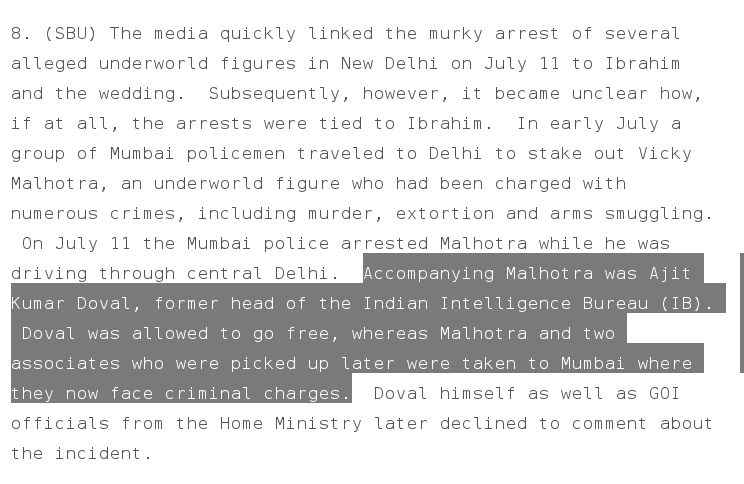 Then why did the Mumbai Police botch up the plan?
According to Wikileaks the Indian media cited two theories-
1. The Mumbai Police were unaware that the IB was collaborating with Chhota Rajan and interfered by carrying out its own investigation.
or
2. Dawood was aware of the IB- Malhotra plot against him and had tipped off the Mumbai Police, many of whom work directly or indirectly for him.
The Mumbai Police-Dawood link
1. The Wikileaks cable also says that the days following the arrest, Mumbai Police Commissioner A.N. Roy, fired senior Police Inspector Aslam Momin.
2. Roy said wiretapping had revealed that Momin had links with Dawood and his two brothers.
3. The media immediately speculated it was Momin who was used by Dawood Ibrahim to tip off the Mumbai Police to arrest the gangster Malhotra in Delhi, thus foiling the IB- Malhotra plot.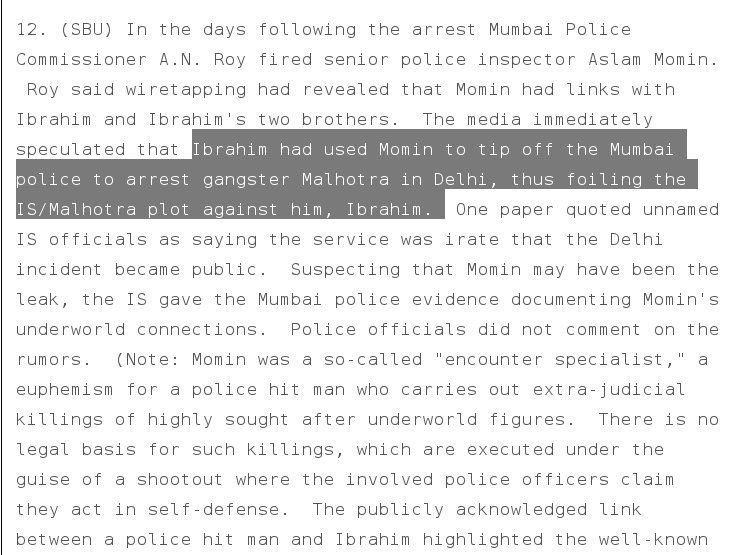 Dawood's daughter's marriage and the US link
The cable also states that the Indian Government was miffed with the fact that the most wanted man in the country, openly held his daughter's reception in the American-run Grand Hyatt Hotel, Dubai.
The cable states that US authorities were advised to "send a strong signal of solidarity and zero tolerance by generating a demarche, asking the Grand Hyatt in Dubai where the money came from and how."