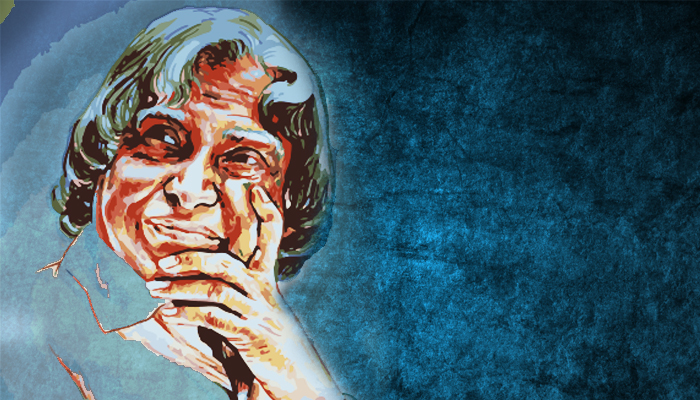 Dr APJ Abdul Kalam was called the 'people's president' because he managed to touch hearts across the country. Immensely loved and respected, Dr Kalam was a man of vast knowledge and insight. Even though he is no longer with us, his wisdom lives on.
Here are some of his words that have inspired us through the years.
Read: The entire nation condoles the death of Dr Kalam, from politicians to B-town
"For great men, religion is a way of making friends; small people make religion a fighting tool."
"Dream is not that which you see while sleeping, it is something that does not let you sleep."
"All Birds find shelter during a rain. But Eagle avoids rain by flying above the Clouds. Problems are common, but attitude makes the difference!"
"Thinking is the capital, Enterprise is the way, Hard Work is the solution."
"This is my belief: that through difficulties and problems God gives us the opportunity to grow. So when your hopes and dreams and goals are dashed, search among the wreckage, you may find a golden opportunity hidden in the ruins."
"Let not thy winged days be spent in vain. When once gone no gold can buy them back again."
"Adversity always presents opportunities for introspection."
"We are all born with a divine fire in us. Our efforts should be to give wings to this fire and fill the world with the glow of its goodness."
"I will not be presumptuous enough to say that my life can be a role model for anybody; but some poor child living in an obscure place in an underprivileged social setting may find a little solace in the way my destiny has been shaped. It could perhaps help such children liberate themselves from the bondage of their illusory backwardness and hopelessness?"
"Thinking is progress. Non-thinking is stagnation of the individual, organisation and the country. Thinking leads to action. Knowledge without action is useless and irrelevant. Knowledge with action, converts adversity into prosperity."

"When learning is purposeful, creativity blossoms. When creativity blossoms, thinking emanates. When thinking emanates, knowledge is fully lit. When knowledge is lit, economy flourishes."