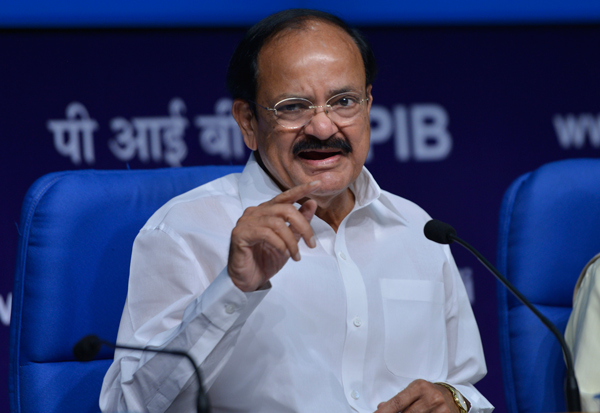 Stepping up attack against Mani Shankar Aiyar over his controversial remarks in Pakistani media, Parliamentary Affairs Minister M Venkaiah Naidu today called it "sedition" and "anti-national" and demanded that Congress take strong action against him.
Naidu also hit out at former External Affairs Minister Salman Khurshid for criticising the NDA government for adopting a tough stand towards Pakistan.
"The comments made by Aiyar and Khurshid are highly objectionable and anti-national. Going to a foreign country and calling upon the people to overthrow a democratically elected PM is nothing but sedition.
"Congress party should condemn these remarks and should take strongest possible action against these two people. They are not ordinary people to be brushed aside. They were ex- ministers and spokesmen of the Cong party. This shows the level of the frustration of the party and its leaders," Naidu told reporters on the sidelines of a function here.
Aiyar stoked a controversy by reportedly saying, during a panel discussion on a Pakistani news channel, that Prime Minister Narendra Modi needs to be removed if talks between the two nations have to resume. His comments have evoked sharp reactions.
Khurshid had criticised the NDA government for adopting a tough stand towards Pakistan.
While Khurshid served in various capacities including as External Affairs Minister in UPA government, Aiyar was a Union Minister for Petroleum and Natural Gas and then Panchayati Raj Minister.
Naidu said that people of the country have given a massive mandate to the Prime Minister.
"The Prime Minister is doing an excellent job. India's image is rising and is being respected worldwide and the country is moving faster. We want to keep good relations with all our neighbouring countries including Pakistan.
"Prime Minister had taken initiative of inviting Pakistan PM for the swearing ceremony and we want to strengthen the SAARC movement also," Naidu said.
At the same time, he noted that "unfortunately our neighbour is aiding, abetting and funding terrorists and this fact is known to all.
"If it is so simple for the Congress, they should explain to the people in the last 50 years why they have not resolved the Kashmir issue through peace dialogue.
"Why they have not successfully stopped Pakistan from supporting these terrorist organisations. Congress must exhibit its sincerity by taking action against these two people."
Hitting out at Aiyar and Khurshid for their controversial comments, BJP had yesterday said that they were trying to gain lost ground "by visiting ISI headquarters" which is an "insult to India and its nationalist Muslims".
-PTI