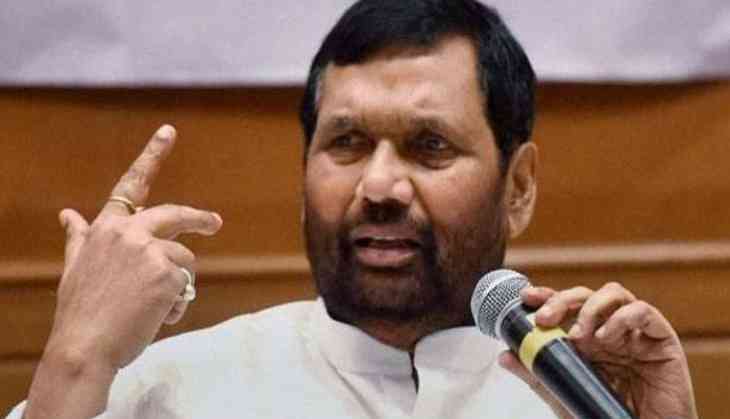 Union Food and Consumer Affairs Minister Ram Vilas Paswan on Friday took a jibe at Rashtriya Janata Dal (RJD) supremo Lalu Prasad Yadav and said if he has to blame someone for his woes then he should blame his ally and Bihar Chief Minister Nitish Kumar.
Paswan's comment came after Lalu held the Bharatiya Janata Party (BJP) and Prime Minister Narendra Modi responsible for the Central Bureau of Investigation (CBI) raids at his residence in Patna and other properties on Friday.
After the CBI raids, Yadav told reporters in Ranchi that the BJP was targeting him because he had united the opposition to oust the Prime Minister Narendra Modi-led government.
Addressing a press conference here, Paswan questioned where is the politics in action against the benami properties?
He took a dig at RJD's ally Janata Dal United ( JD-U) Nitish Kumar and said if Lalu had to blame someone then he should blame Nitish who had been demanding action against benami properties.
"If there is politics then Nitish Kumar is behind it as he had been demanding action against benami properties," Paswan said.
The Union Minister asserted that the Centre had nothing to do with the CBI raids against Lalu and his family.
"When Lalu was jailed in the fodder scam then there was no NDA government. There are corruption charges against Lalu and his family members and the charges are documented," Paswan said.
The CBI on Friday morning carried out raids at the residences of Lalu Prasad and his family members in connection with a new case of alleged irregularities in awarding the tender for the maintenance of Railways' hotels in Puri and Ranchi when Lalu was Railways Minister.
The CBI also registered a corruption case against Lalu; his wife and former Chief Minister Rabri Devi; his son Tejaswi Yadav; former Indian Railway Catering and Tourism Corporation (IRCTC) Managing Director P.K. Goyal; and the wife of Lalu's confidante Prem Chand Gupta, Sujata on allegations of awarding the tender for development, maintenance and operation of hotels in Ranchi and Puri in 2006.
After the raids, Lalu alleged that there were some forces who wanted him to bow down before the BJP and Rashtriya Swayamsevak Sangh (RSS).
"All this has come in the wake of me and my party amalgamating all other opposition parties of similar mentality to unite and oust the Narendra Modi government. This is political vendetta against me and my family. My rivals want to send me to jail; they want me to surrender in front of BJP and RSS," Lalu said.
The CBI case has brought a bunch of new concerns for the Yadavs who have been facing Income Tax probe for allegedly becoming owner of property worth Rs. 1000 crore via shell companies.
Bihar's senior BJP leader Sushil Kumar Modi has alleged that Lalu family has become owner of over 125 properties in last 12 years.
It is Sushil Modi only who, from last three months, has been making series of revelations about the alleged illegal empire of the Yadavs.
-ANI