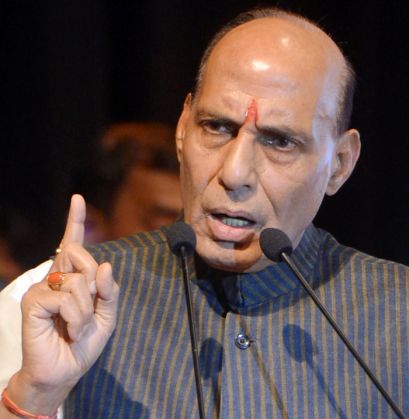 Voicing his support for a greater cow protection, Union Home Miniter Rajnath Singh on Saturday, 8 August, cited the Mughals' stance towards cow slaughter. Singh said that even the Mughals were aware of the fact that if they had to rule then an "open support to cow slaughter" would not be feasible while the Britishers failed to understand this aspect.
The senior BJP leader said that as a Home Minister he has ensured that cattle smuggling to Bangladesh was checked, with continued efforts by Border Security Force (BSF) personnel.
"Whatever little information I have about Mughal rulers ...I can say that the Mughal rulers were aware of this fact.
They understood that by killing cows and giving an open support to cow slaughter they cannot rule for a longer period.
"Even Babur, in his will, has written, we can't do two things at one time. Either rule the hearts of people or eat cow's meat. Only one thing can happen... They cannot be done together," Singh said.
He was speaking at a conference on conservation of cow, organised by Rashtriya Godhan Mahasangh, in association with the Agriculture Ministry.
"After the British came to India, the way Indian tradition had to be respected... it was not done. In fact, it became worse. One of the main reasons for the first war of Independence (1857) was cow fat which was used in cartridges.
This shows the faith of people towards cow," he said.
Asked whether the Centre would impose a ban on cow slaughter as was demanded by some of the attendees at the conference, Union Minister of State for Environment and Forest Praskash Javdekar said it is a call which state governments need to take.
Singh said that all scientific, historic and cultural aspects related to cow need to be well thought upon.
Elaborating on the work in protecting cows done by the government after he took charge as Home Minister, Singh said due to the efforts taken by BSF personnel, cattle smuggling to Bangladesh has come down.
"When I took charge of the office, within a month, I had decided to visit Indo-Bangladesh border to take stock of cow smuggling in the region. Stopping smuggling was very difficult... riverines, rivers, difficult terrain. You have to fight with smugglers.
"I went to Border Security Force personnel and while addressing them, I said the success of the meeting will be when we are able to stop smuggling," he said.
Singh said the government has allocated Rs 500 crore for cow conservation and two centres have been set up to for conducting research on cows of Indian breed.
"Our (BSF) personnel have attained big success.
Yesterday, Bangladesh High Commissioner and Director General of Border Security Force had come to meet me. When I discussed the smuggling issue with them, they informed me that since we have stopped cow smuggling, beef prices have gone up by 50 percent in Bangladesh. This satisfied me to some extent.
"It may concern some that prices there have gone up, but I am satisfied that cow smuggling has been curbed to a great extent. We will strive to stop smuggling along the border. BSF has arrested hundreds of cow smugglers and I congratulate the personnel for this," Singh said.
Linking conservation of cows to climate change and ecology, Singh said, "So, from the perspective of climate change, cows should be protected at any cost."
He also lauded Maharashtra and Haryana governments for enacting laws to ban meat export. "Many states have been doing this. The law and order issue is related to the states and looking at the federal structure, even the states should be convinced and enlighten people about the issue."
He stressed the need to spread public awareness to ensure cow conservation. Singh claimed that there was a huge demand for Indian cows abroad.
"The United Nation's agricultural department had engaged around 300 scientists from 22 countries to research and define genetic sequence of cow. The researchers concluded that cow has 22,000 genes while human beings have around 20,000-25,000 genes. Cow and human beings have 80 per cent of genes common between them," Singh said.
He also emphasised on promotion of organic farming and insisted that cow conservation has important role in it. "Cow dung if the best fertiliser and its urine is best anti-biotic," he said.
-PTI