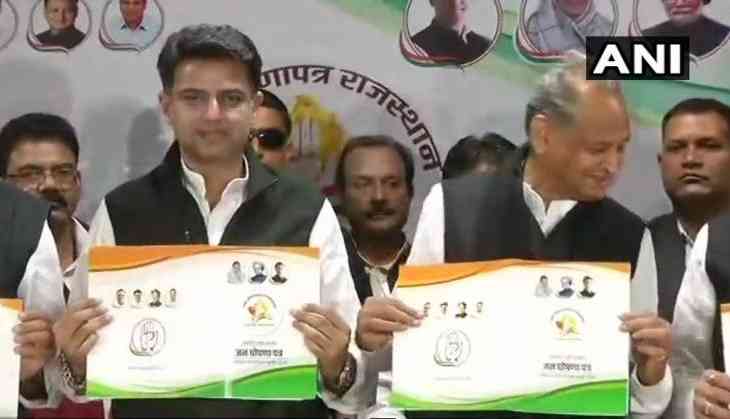 Ahead of Assembly election in Rajasthan, Congress released its manifesto 'Jan Ghoshna Patra' on Thursday. The Jan Ghoshna Patra was released by Congress state president Sachin Pilot, former chief minister Ashok Gehlot, chairman of the manifesto committee Harish Chaudhary and other senior leaders of the party at Pradesh Congress Committee (PCC) office in Jaipur.
The Congress manifesto promises loan waivers to the farmers and provides free education to women and jobs to youth. During the launch of Congress' manifesto, Sachin Pilot said it was prepared after taking opinions through multiple platforms such as social media. Two lakh suggestions were received for the preparation of the manifesto, he said.
Jaipur: Congress releases manifesto for #RajasthanElections2018 pic.twitter.com/f90Tm4DAGk

— ANI (@ANI) November 29, 2018
On the loan waiver promises for farmers, Pilot said: "We will waive farm loans as Rahul Gandhi had promised. Farmers in Rajasthan will get an opportunity to have a new beginning." The pilot has also promised that old farmers will get pensions if the Congress comes to power. He also said the Congress government, if formed, will try to keep the cost of farm implements outside Goods and Services Tax (GST).
On the education for the women, the Rajasthan Congress chief said, it would make education cost for all women free. "Rajasthan will be the first state to bear the education fee of all women," said Pilot.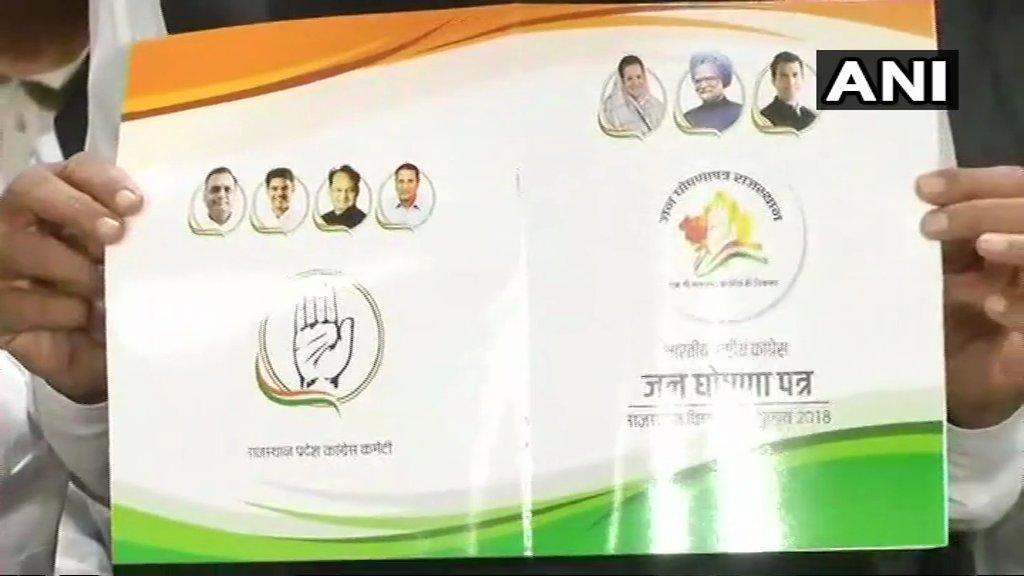 Attacking the BJP's claims of employment in five years in Rajasthan, Pilot said the Congress will support unemployed educated youth with an amount of Rs. 3,500 every month.
Meanwhile targeting JP over the announcement made for farmers in the state, Rajdeep Surjewala said, "Jhuth ki buai, jumlo ka khad, kisan se dhoka, vade nahin yaad." Surjewala further said, "The BJP can waive off loans of big businessmen, but cannot waive the loan of farmers. They have announced to create a start-up fund of Rs 250 crores for farmers. Meaning each farmer will get a help of Rs 50."
The voting for 200 assembly seats in Rajasthan is scheduled for December 7. The counting of votes will be held on December 11, along with four other poll-bound states – Telangana, Madhya Pradesh, Chhattisgarh and Mizoram.
Also read: CBI crisis: SC to decide on director Alok Verma's plea today; last hearing was postponed after Verma's response got leaked