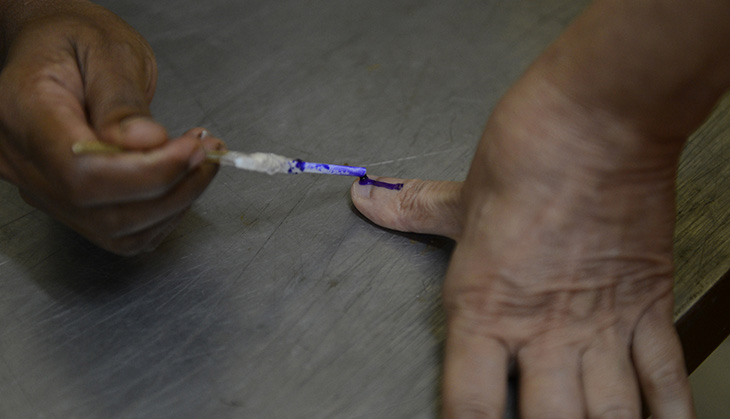 Ruling BJP and Congress retained their positions in the closely fought local bodies by-elections in Rajasthan garnering 19 and 14 seats out of 37 respectively that went to polls on 2 December.
The ruling party and main opposition in the state gained one seat each in the by-polls held for Panchayat and municipal seats in the state, counting for which took place yesterday.
The by-polls for local body seats in 20 districts were held on 29 November in the backdrop of the centers's demonetisation move and the outcome was being being keenly watched.
Just days earlier, BJP won the first phase of civic elections in Maharashtra and local bodies by-elections in Gujarat with the party claiming that it was an endorsement by the people of the demonetisation decision.
As per the final results for 37 seats announced last night, BJP won 19, Congress 14 whereas Independent candidates managed to get only 4 seats.
The elections were held for 3 zila parishad seats, 10 municipal seats and 24 panchayat samiti seats.
In the by-polls for 3 Zila Parishad seats, BJP candidates Santosh Patidar and Murlidhar won in Banswara and Bhilwara respectively while Congress candidate Pyareshwari was the winner in Jalore.
In the 24 Panchayat samiti seats that went to polls, BJP and Congress won 12 and 10 seats respectively while two seats were captured by Independent candidates.
Of the 24 Panchayat Samiti seats, BJP's Laxmi Kumari and Vikas Kumar and Congress candidate Tara Devi were elected unopposed on Mundawar, Neemrana and Rajgarh seats respectively in Alwar district.
The bypolls for the Panchayat Samiti seats were held in Alwar, Banswara, Baran, Bundi, Chittorgarh, Churu, Dausa, Dungarpur, Jhalawar, Jodhpur, Sikar Sirohi and Udaipur districts.
On 10 municipal seats in nine districts, BJP won five, Congress three and the Independents won on two seats.
BJP State Vice President Bhajan Lal said the party's victory shows that there is no adverse sentiment in public towards the PM's decision of demonetisation.
"We have gained victory and this clearly shows that public is with BJP. This also shows that the public has welcomed the recent decision of the Prime Minister on demonetisation and supported the party," he told PTI.
PCC President Sachin Pilot said the results of by-polls normally remain in the favour of the ruling party.
He said the voting percentage of Congress has improved in all the by-polls held over the last three years which is quite satisfactory.
-PTI