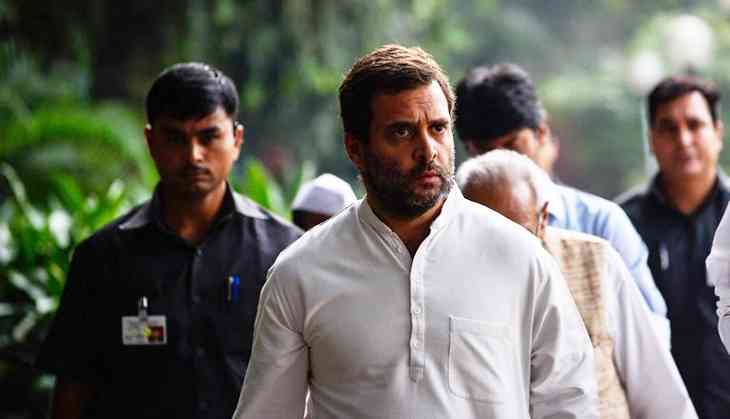 Rahul Gandhi to visit MP's Mandsaur to meet farmers' kin (ANI)
Congress vice president Rahul Gandhi will be in Madhya Pradesh's Mandsaur today to meet the grieving families of farmers who lost their lives in the police firing.
The Centre has hit back at Gandhi for publicizing the entire matter through his visit, and branded it as a publicity stunt.
"Rahul Gandhi is going to that area where situation is very much tense. He should understand his responsibility. He should have talked about this first, but he is so fond of his publicity. That's why he is going there." Union Minister of Steel, Mines and Employment Narendra Singh Tomar told ANI.
Meanwhile, the Congress has rebuffed reports of Gandhi participating in the ongoing farmers protest in Mandsaur, saying such a plan was never on the card for the party.
"People who wanted to go and express solidarity with the bereaved farmers, including Rahul Gandhi, were denied permission. Instead canards and rumours were spread that he wanted to go earlier to participate in the protest. There were never any plans, never any attempt," Congress spokesperson Abhishek Manu Singhvi said in a press briefing here.
Appealing for peace to the agitating farmers in the state, Madhya Pradesh Chief Minister Shivraj Singh Chouhan announced a compensation of Rs. 1 crore to the kin of those killed in the violence.
Speaking to ANI, the Chief Minister asserted that his government stands with farmers and assured that various demands have been fulfilled in the past.
"In the past 11 years, there have been countless decisions made for the welfare of farmers. The various demands of the farmers have been fulfilled," he said.
However, Chouhan came down heavily on the Congress for giving a political tinge to the violence.
The farmers' agitation in Mandsaur district further intensified with protestors setting at least eight to ten vehicles on fire today.
Demanding the presence of Chouhan, the protesting farmers, earlier in the day got into a scuffle with the Collector and Superintendent of Police of Mandsaur district over them delaying their visit to the area.
Farmers hit the streets protesting over their demands for remunerative prices for their produce and a farm loan waiver not being met.
This unfortunately took an ugly turn yesterday when five farmers were killed and eight others were injured in two separate incidents of firing in Mandsaur.
The protestors alleged that police fired at them. A judicial probe has been ordered in the matter.
-ANI