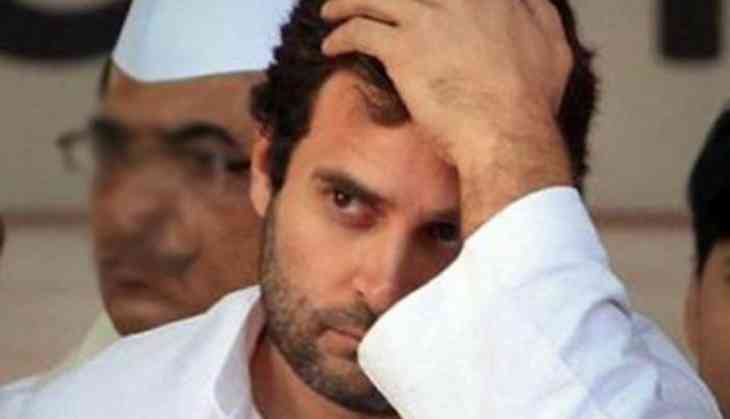 Rahul Gandhi's tweet against Centre reflects his immaturity: BJP
The Bharatiya Janata Party (BJP) on Thursday hit out at Rahul Gandhi for blaming the Centre for Amarnath terror attack and said the Congress vice-president's 'irresponsible statement' comes at a time when the entire nation should stand one against the terrorism.
The saffron party further said that Rahul's statement reflects his immaturity and inexperience in politics.
"In a series of tweets, Rahul Gandhi has commented on the central government handling the Kashmir issues. In none of the tweets, he has condemned the LeT or terror outfits who indulged in the killing of Amarnath Yatris. He did not deplore the attempt made by the Pakistan by allowing its border to be misused to hold terror activities in the Valley. He did not condemn the stone-pelters and those who are supporting the terror outfits. Instead, he has chosen to attack the Prime Minister. Rahul Gandhi is speaking in an irresponsible way at a time when we should stand one," BJP leader S Prakash told ANI.
He further said that it was not the time to play politics but to stand united and fight terrorism.
BJP leader Nalin Kohli said that Rahul's statement calls for Congress' introspection.
"Congress is a party that has governed India for almost six decades and when its vice president Rahul Gandhi comes up with such statements and tweets then it calls for introspection. Are they not painted with loss of lives there and they are seeking to do politics on that?" he told ANI
Rahul yesterday blamed the ruling BJP-PDP Government in Jammu and Kashmir and said that Prime Minister Narendra Modi's policy has created space for terrorists in the Valley.
Rahul took to Twitter to condemn the recent terror attack and said, "Modi's policies have created space for terrorists in Kashmir. Grave strategic blow for India."
He said Prime Minister Modi's party alliance with the PDP has cost India massively.
"Short term political gain for Modi from PDP alliance has cost India massively. Modi's personal gain= India's strategic loss + sacrifice of innocent Indian blood," he tweeted.
Earlier too, in a series of tweets condemning the attack on Amarnath pilgrims, Rahul had called upon Prime Minister Modi to take responsibility for the same, adding that the attack was the result of a 'grave and unacceptable security lapse'.
As many as seven people were killed and fifteen others were injured after a group of terrorists opened fire on a bus carrying 17 pilgrims from Baltal to Mir Bazar around 8.20 p.m. on Monday night.
-ANI