Raza Naqvi
| Updated on: 10 February 2017, 1:47 IST
The Babri Masjid was demolished 24 years ago, in 1992. And today, Rahul Gandhi, Congress vice president, became the first member of the Nehru-Gandhi clan to visit Ayodhya, since then. He was, of course, on his Kisan Yatra, to drum up support for the party in the run-up to next year's Assembly polls in the crucial state of Uttar Pradesh. His father and former prime minister of India, Rajiv Gandhi was the last member of the family to visit Ayodhya in 1990.
However, there have been other members from the family, who came close but didn't visit Ayodhya. Sonia Gandhi had addressed a rally in Faizabad in 2014, which is about 10 km away from Ayodhya.
Rahul visited the Hanumangarhi temple which is less than a km away from the disputed site of Babri Masjid. The unprecedented move to visit the temple is being dubbed as an attempt to woo the Hindu voters ahead of the polls.
During his visit, the Congress vice president also met Mahant Gyan Das, who is a member of the Akhil Bharatiya Akhara Parishad- the apex organisation of Sikh and Hindu sadhus and sants, but he "ignored" visiting the family of Mohammad Hashim Ansari, the recently-deceased man who was the oldest living litigant in the Babri Masjid case.
Also read:Congress strategist Prashant Kishor faces heat after secret 'Brahmin meeting' in Uttar Pradesh
Congress is responsible for Babri case and visiting my home wouldn't have made Rahul poor
Residence of late Mohammad Hashim Ansari. (Catchnews)
Mohammad Iqbal Ansari, son of the late Hashim Ansari and current litigant of the Babri case, while speaking to Catch, expressed his displeasure with the Congress and said the grand old party of India was solely responsible for the Babri case and Rahul wouldn't have really lost anything by dropping in to pay him a visit.
"It was Rajiv Gandhi who in 1986 got 'Ramlalla' unlocked and allowed devotees to offer their prayers daily. In 1989, the Vishwa Hindu Parishad obtained permission to perform Shilanyas (stone laying foundation) and the foundation for the temple was laid at a site adjacent to the mosque for building a Ram temple. In 1992, the mosque was demolished and the country witnessed communal riots, many innocent lives were lost due to the poor judgment of Rajiv Gandhi and till date, hate politics occur over the issue," said Ansari.
"I was expecting a visit from Rahul today, not only because my father died but also because I would have shared my problems with him. I also expected that from the leader. He wouldn't have become poor by visiting my home; if meeting the Mahant was important then meeting me for a mere five minutes wasn't worthy?" asked Ansari.
Also read:Here's why reviving the Congress in UP is an uphill task for Prashant Kishor
Ignoring Muslims for Hindutva agenda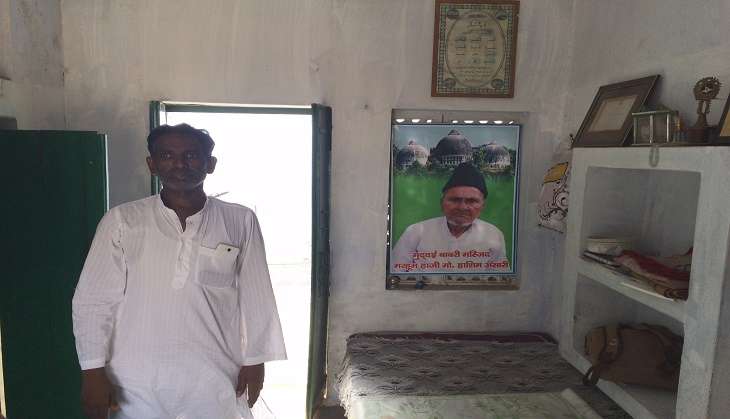 Mohammad Iqbal Ansari, son of late Hashim Ansari. (Catchnews)
"The Congress shouldn't forget that Muslims have always been there for the party but it seems we are just being ignored so that the Congress can neutralise the Hindu voters by keeping alive the Hindutva agenda and strengthen their claim that it was Rajiv Gandhi who wanted Ram Rajya and the Bhartiya Janata Party only fools Hindus by talking about Hindutva," added Ansari.
Slamming Congress leaders, he said Congress leaders have always ignored his family and they aren't concerned about them. According to him, the Samajwadi Party is quite helpful and they often visit them. Speaking about former UP Congress chief Nirmal Khatri, who is quite popular in the Faizabad belt, Ansari said he had visited their home a few years ago.
"It seems the Congress thinks Muslims are no longer important and they can't help them win seats, but if they will keep ignoring us then why will we vote for them?" asked Ansari.
Also read:This is why '27 saal UP Behaal' yatra failed to do any good for Congress in Kanpur
Is Congress trying to shun its pro-minority image?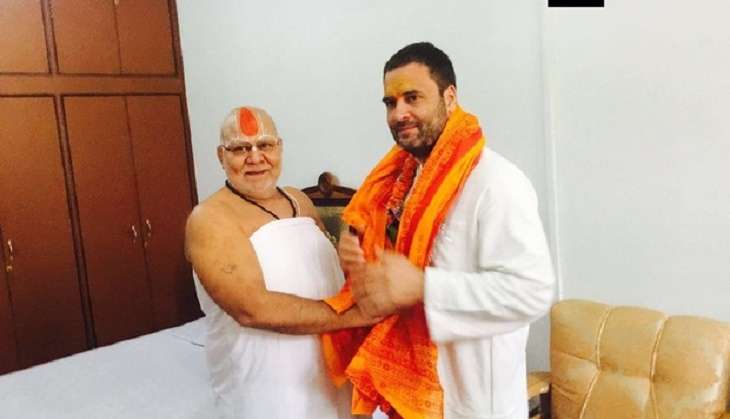 Rahul with Mahant Gyan Das. (ANI Photo)
Poll-strategist Prashant Kishor has reportedly designed a Brahmin-centric campaign for the Congress in UP and probably the reason for the party zeroing in on Sheila Dikshit as their CM candidate. With such focus on Brahmins, the Congress' moves are being seen as an effort to shun the party's pro-minority image.
The perception is that the Congress, to woo Hindu voters, is playing a soft variety of Hindutva politics to target the Bhartiya Janata Party and take on the Rashtriya Swayamsevak Sangh (RSS) as well.
It is believed that the 'die-hard Hindutva' voters lost their faith in the Congress because of the perception that the party favoured minorities and this is why they lent their support to the BJP.
However, in all this clamour, it is the late Hashim Ansari's family which has been left bereft of answers.
Also read:Asaduddin Owaisi likely to bank on riot victims to capture Uttar Pradesh