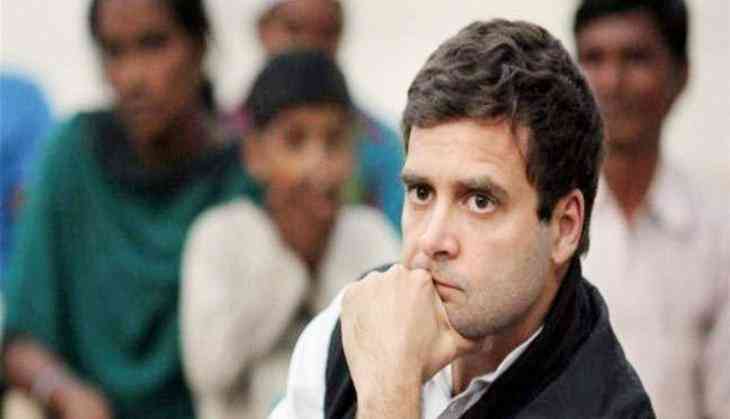 The plane carrying Congress chief Rahul Gandhi reportedly made an emergency landing after it encountered technical snag on route to Hubli, Karnataka. The Congress alleges conspiracy and state it as an intentional tampering. The Congress spokesperson also demanded a thorough investigation into possible "foul play".
According to the DGCA website, the aircraft VT-AVH, is a Dassault Falcon 2000 owned by Religare Aviation Ltd, which registered the aircraft in India on February 4, 2011.
"The aircraft on a special flight (VT-AVH) from New Delhi to Hubli suffered serious malfunction and tilted heavily to one side during the course of the flight," a party official and Gandhi's aide Kaushal Vidyarthee said in the complaint.
In the complaint, addressed to the state's DIG Neelamani N Raju, Congress asked the state police chief to do 'ground' investigation of the malfunction. However, a Hubballi Police official told IANS over the phone that no complaint has been received by the local police station on the issue so far.
The Congress through its official Twitter handle shared the complaint letter on social media, however, it does not hold the exact make of the aircraft the Congress president flew in and its owner.
Complaint to the DG&IG of Police, Karnataka, regarding the serious malfunction of the aircraft carrying Congress President @RahulGandhi pic.twitter.com/P3RJwkWOMR

— Congress (@INCIndia) April 26, 2018
According to the letter, there were a total of three other passengers in the aircraft besides Gandhi and the complainant Vidyarthee -- Rampreet, Rahul Ravi and Special Protection Group officer Rahul Gautam.
"The technical snags coupled with the failed auto-pilot system raise issues of aviation safety and intentional tampering which endangered the life of the passengers," it added.
"Today Congress President Rahul Gandhi and other passengers were travelling by special flight from Delhi to Hubli. At about 10:45 am, the auto-pilot was lost off the flight. The flight tilted on one side and took a nosedive.
"For a few minutes, this special flight was off-the-radar. There was a lot of shuddering, although the weather outside was normal and sunny. On the third attempt, the flight finally landed at Hubli," he said. "It was then informed that the auto-pilot had failed, also the radars of the flight had partially failed."
"Only when all of these are cleared, then is the flight plan okayed. This is a serious case of aviation mechanics failure," he said.
Meanwhile, DCP (Law and Order), Hubli-Dharwad Police, Renuka Sukumar confirmed that an FIR had been registered against the pilots. "An FIR is being taken up in the Gokul Road Police Station against the pilots on the complaint of Sri Shakir Sannadhi, general secretary, KPCC, under Indian Penal Code Sections 287 and 336, read with Section 11 of the Aircraft Act 1934,'' said Sukumar.
Also read: Kushinagar Bus-Train Accident: People protests over the 13 school kid death; Principal of Divine Public school held