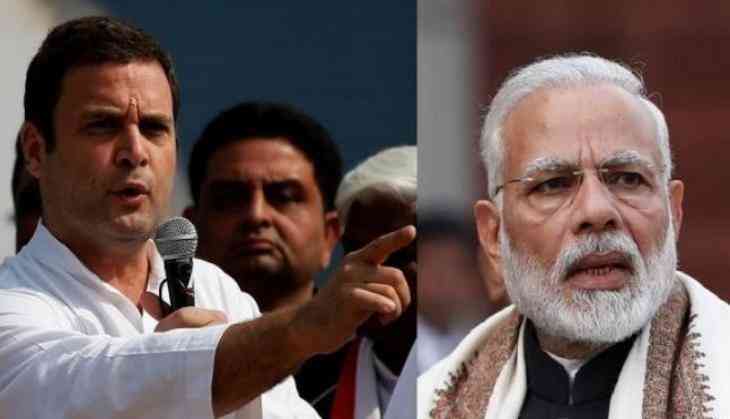 Congress president Rahul Gandhi on Monday took a dig at PM Narendra Modi- led government over the growing unemployment in the country and issues on it after Union Minister Nitin Gadkari conceded that there is a job crunch. On Sunday, Gadkari taking concern over violence leading due to the protest in Maharashtra for Maratha Reservation in jobs, said what to do with quotas if there are no jobs?
Following which Rahul Gandhi took Twitter to launch an attack on Modi government. "Excellent question (Nitin) Gadkariji. Every Indian is asking the same question. Where are the jobs," Gandhi tweeted attaching a news report in which the Union Road Transport and Shipping Minister, Nitin Gadkari questioned the rationality behind a job reservation stir when there were not enough jobs in the first place.
Gadkari on Sunday told reporters in Maharashtra that reservation would not guarantee employment as jobs were shrinking. "Let us assume the reservation is given. But there are no jobs. Because in banks, the jobs have shrunk because of IT. The government recruitment is frozen. Where are the jobs?" Gadkari asked.
The BJP lawmaker also added how politics have been done using caste, backwardness as a prop. "backwardness is becoming a political interest," the BJP leader said.
"Everyone says I am backward. In Bihar and Uttar Pradesh, Brahmins are strong. They dominate politics. (And) They say they are backward. So one school of thought is that a poor is poor, he has no caste, creed or language. Whatever may be the religion — the Muslim, the Hindu or the Maratha (a caste), in all communities there is one section which has no clothes to wear, no food to eat. One school of thought also is (that) we must also consider the poorest of the poor section in every community." This is a "socio-economic thinking" and it must not be politicised, he added.
In the war of quota and protest, reportedly seven people have died in the state in the last two weeks.