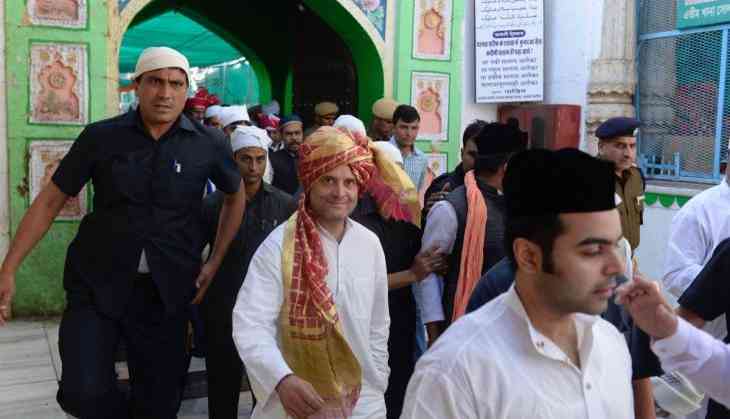 Congress chief Rahul Gandhi is now said to be a 'Kashmiri Brahmin' as claimed by a priest of an ancient Rajasthan temple.
Yesterday, the priest had revealed the Gotra of Rahul Gandhi and said that he is a "Dattatreya" and a Kashmiri Brahmin, the priest who is of the Brahma temple said, situated near the famous lake Pushkar.
The step of revealing the caste, gotra and other Hindu identities at the time of election in Rajasthan is being severely criticized by the incumbent BJP and the national spokesperson Sambit Patra, in this regard had earlier raised questions in poll bound Madhya Pradesh that, "Rahul Gandhi wears a janeu (sacred thread). We want to ask him what kind of jenau-dhari are you? What is your gotra."
The priest Dinanath Kaul, who is in the ancient Brahma Temple of Rajasthan's Pushkar said, "His gotra is Dattatreya and he is a Kashmiri Brahmin. Motilal Nehru, Jawaharlal Nehru, Indira Gandhi, Sanjay Gandhi, Maneka Gandhi and Sonia Gandhi have come and offered prayers at the ghat and it is recorded with us," as reported by the NDTV.
The recent admiration of Hindu's by the Congress party in the last one year has seen a flak by the political commentators and analysts that the soft Hindutva is being played by the Congress party, since the president Rahul Gandhi started visiting the temples during Gujarat election in 2017.
The priest Dinanath Kaul further added, "(Rahul) Gandhi came and offered prayers at the ghat. He also said his gotra is Dattatreya. Dattatreya are Kauls and Kauls are Kashmiri Brahmin."
Also read: Arvind Kejriwal hits out at PM Narendra Modi over ensuring Delhi Chief Minister's security, asks him to