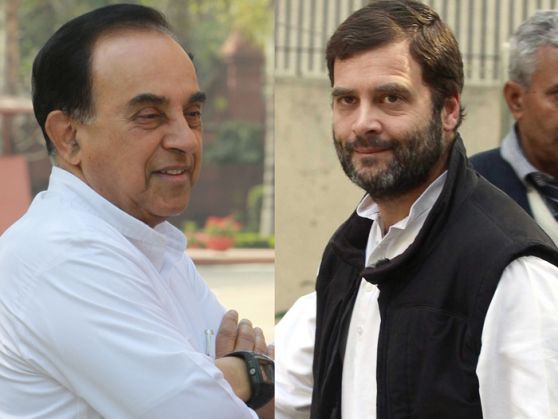 BJP leader Subramanian Swamy has claimed that Rahul Gandhi had declared himself a British citizen while floating a private company in London between the period of 2003-2009. Further, he has written a letter to Prime Minister Modi demanding that the Gandhi scion be stripped of his Indian citizenship.
He writes in the letter:
As you can see from the company (BLACKOPS LIMITED) Annual Record that Mr Rahul Gandhi has given his date of birth correctly but has declared himself to be of British nationality with an United Kingdom address. This is, prima facie, a violation of the law and the constitutional position in the country. I urge you to treat this matter with great urgency and immediately take necessary steps to see if this prima facie evidence is rebuttable, and if not, order than Mr Rahul Gandhi be stripped.
As per article 9 of Indian constitution, any Indian citizen cannot acquire dual citizenship: Subramanian Swamy pic.twitter.com/UE9DEP80st

- ANI (@ANI_news) November 16, 2015
Swamy released the copy of the letter at a press conference.
Congress was quick to rebut the allegations. Congress spokesperson Ajay Maken said:
It has been the habit of Subramanian Swamy to make silly statements in order to try and seek some publicity whenever he is sidelined. Nobody takes his statements seriously.
Swamy has always raised questions on the citizenship of the Gandhis and also their financial transaction. He is also embroiled in a bitter legal battle with the first political family of India in the Natioinal Herald case. He accused Sonia, Rahul and other Congress leaders of conspiring to cheat and misappropriate funds by paying Rs 50 lakh which allows the Young Indian Ltd company to acquire the Associated Journals Ltd, the publisher of the defunct National Herald newspaper.