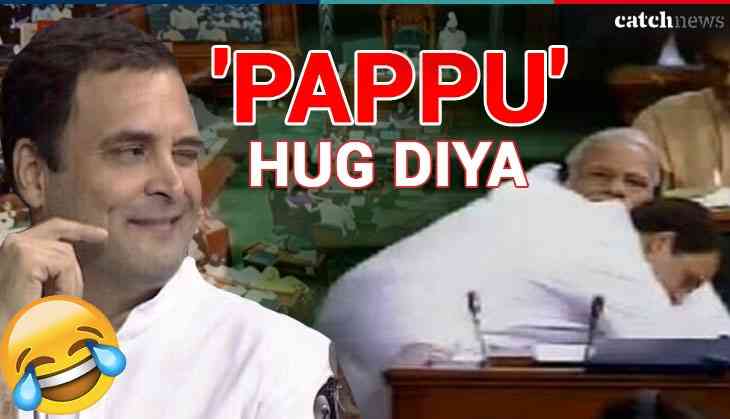 Congress President Rahul Gandhi has made Lok Sabha House stunned with his speech 38-minute speech. He had made several allegations on the Modi government contribution the country.
During the speech, Rahul surprised the house when he reached to PM Modi to do something. Everyone has shocked with his gesture that he has shown to PM Modi in the House.
Rahul gave a surprising hug to Prime Minister Narendra Modi after completing his speech.
However, PM Modi looked surprised with Gandhi's gesture for him. Later, he called Congress President back for a handshake and also whispered a few words in his ears.
However, we don't understand what did Modi said in his ears but we are sure that it was something interesting that both were smiling.
Even Lok Sabha speaker Sumitra Mahajan was also surprised and amused after seeing all the activity that has been done in the Lok Sabha house.
Check out the video:
#WATCH Rahul Gandhi walked up to PM Narendra Modi in Lok Sabha and gave him a hug, earlier today #NoConfidenceMotion pic.twitter.com/fTgyjE2LTt

— ANI (@ANI) July 20, 2018
Rahul Gandhi also said before giving hug to PM Modi that he had no hatred for the Prime Minister. He also said that he had received a lot of hatred as people even called him 'Pappu', still he has no hatred for Modiji.
After giving hug to PM Modi, Rahul Gandhi did something which showed that there was something fishy or a twist behind this act of Rahul.
Meanwhile, this whole incident got captured and immediately it become viral over the social media. Netizens started giving their reaction over the incident.
Here's how Twitterati reacted:
This is called Galepadna not MILENA

— DHIREN MEHTA (@DHIRENMEHTA11) July 20, 2018
Pappu HUG Diya !!! 😂😜 pic.twitter.com/SPF3ctWYK5

— Uday G (@udaygour) July 20, 2018
Saala Duffer , this is congress's future.

— Sandeep Mittal (@sandeepmit) July 20, 2018
First time an Indian given hug to Modi.

— Babu (@BabuSahebBack) July 20, 2018
aj to lgana hi pda gale

— Omkar Kashyap (@KashyapOmkar) July 20, 2018
Pappu has no personality. Modi had him eating frm the palm of his hand

— IntelInside (@raviterb) July 20, 2018
July 20, 2018
Acche din aagaye...
Rahul Gandhi hugging the person they hate the most

🙏🙏🙏

— Chachi 420 (@Chachi420va) July 20, 2018
Jaadu ki jhappi... From @RahulGandhi to @narendramodi

— Abhijit Dan (@nowabhijit) July 20, 2018
Hug therapy. Rahul also learned it from modi dubakoor. pic.twitter.com/ED6AiHQAjH

— Lie Rani (@RaniSmithi) July 20, 2018
Later, Rahul Gandhi found giving a wink to his fellow party members.
That wink😂 pic.twitter.com/rITtt1CQDm

— Manav Dave (@Manav_Dave_24) July 20, 2018
What do you want to say about Rahul's speech at Lok Sabha?
Comment here..
Also read: No-Confidence Motion: Rahul Gandhi gives 'Jadu ki Jappi' to PM Modi after concluding his speech in Lok Sabha during no-trust debate; see video