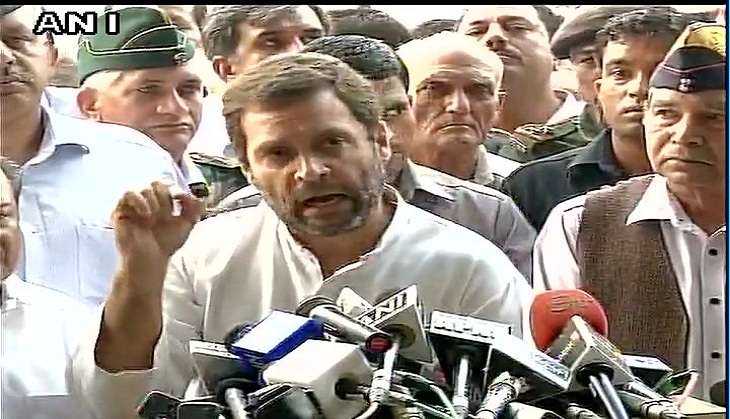 After accusing the Prime Minister of shying away from speaking on demonetisation in the Parliament, Congress vice president Rahul Gandhi claimed that the government is not allowing him to speak in the Lok Sabha which he believed would cause an 'earthquake'.
"The government is running from debate. If they allow me to speak then you will see what an earthquake will come," said the Congress vice president who also dared Prime Minister Modi to speak in the house. "PM Modi is speaking on the issue at different places in the country, why is he so scared of coming to Lok Sabha and speaking on it," he added
The Opposition has blamed the government for the severe cash crunch in the country which they believe has led to great distress amongst the farmers and labourers. "This note ban is the biggest scam in the history of India. I want to speak in Lok Sabha about it. I will tell everything there. For a month we've been trying to debate on demonetisation. We want the issue to be clear," Rahul said.
Meanwhile, BJP criticised the Gandhi scion for his criticism of the Prime Minister and claimed he is not even taken seriously in his own party. BJP spokesperson Sambit Patra took to Twitter to express is outage over Rahul's remarks and said, "Those who were 'Epicentre' of SCAMS for last 60years talk of 'Earthquake' today!!"
Taking jibes at Rahul, Union minister Venkaiah Naidu, quipped, "May this quake happen when we are not present in Parliament." BJP spokesperson GVL Narasimha compared the Congress leader with Uttara Kumar of Mahabharata, "who is known to make tall claims but he is indeedcoward and a comic character."
In its relentless attack on the government over the poor implementation of the demonetisation scheme, a united opposition has not allowed the Parliament to function ever since it met for the month long winter session on 16 November.
The politics of confrontation in the Parliament, which is heading towards a washout, could derail the passage of GST, a key legislation likely to push India's economic growth. Despite President Pranab Mukherjee's plea for the smooth functioning of the house, the logjam continued with both the houses witnessing constant ruckus and sloganeering.
The Lok Sabha was adjourned for the day while Rajya Sabha was expected to meet later but unlikely to conduct any business. The Lower House would convene on 14 December after a small break.