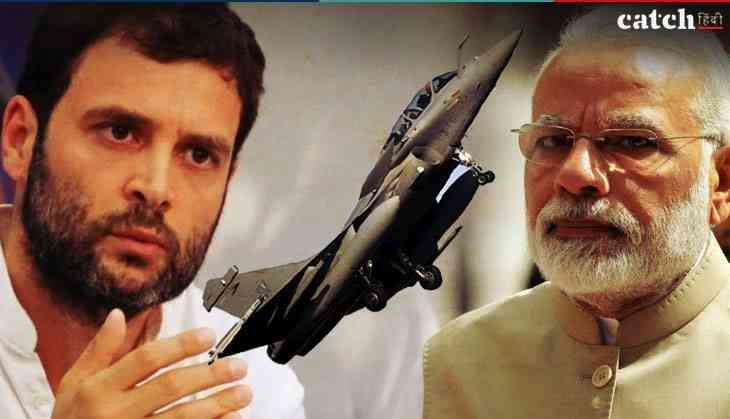 As the Rafale debate took a toll in the Parliament yesterday, Congress president Rahul Gandhi has demanded resignation of Defence Minister Nirmala Sitharaman over the HAL procurement issue.
Congress' spokesperson Randeep Singh Surjewala has said that Hindustan Aeronautics Limited (HAL) has not received any procurement deal from the government of Rs 1 lakh crore and had to take a loan to pay the salary of the employees.
"HAL is a listed company now. You are free to verify our order books, where you will find not a single rupee of the said Rs 1 lakh crore has come to HAL, since not a single order, as claimed, has been signed till now. We have a responsibility to shareholders who cannot be led to believe we have orders when we don't," a senior official had said, as reported by The Times of India.
When you tell one lie, you need to keep spinning out more lies, to cover up the first one.

In her eagerness to defend the PM's Rafale lie, the RM lied to Parliament.

Tomorrow, RM must place before Parliament documents showing 1 Lakh crore of Govt orders to HAL.

Or resign. pic.twitter.com/dYafyklH9o

— Rahul Gandhi (@RahulGandhi) January 6, 2019
Rahul Gandhi took to Twitter to attack the Defence Minister and wrote, "When you tell one lie, you need to keep spinning out more lies, to cover up the first one. In her eagerness to defend the PM's Rafale lie, the RM lied to Parliament. Tomorrow, RM must place before Parliament documents showing 1 Lakh crore of Govt orders to HAL. Or resign."
Nirmala Sitharaman, while debating in the Parliament on the Rafale deal issue, had claimed that "The Congress is shedding crocodile tears for HAL. The Congress government gave 53 waivers to HAL... We have given contracts worth Rs. 1 lakh crore."
Surjewala also attacked the Defence Minister today and tweeted that "The Lying Defence Minister's Lies Gets Exposed! Def Min claimed that procurement orders worth ₹1 Lakh Cr provided to HAL! HAL says Not a SINGLE PAISA has come, as Not a SINGLE ORDER has been signed! For the first time, HAL forced to take a loan of ₹1000 Cr to pay salaries."
Also read: Secretaries of 3 UP Ministers under Yogi Adityanath arrested, after sting operation proves corruption charges
The Lying Defence Minister's Lies Gets Exposed!

Def Min claimed that procurement orders worth ₹1 Lakh Cr provided to HAL!

HAL says Not a SINGLE PAISA has come, as Not a SINGLE ORDER has been signed!

For the first time,HAL forced to take a loan of ₹1000 Cr to pay salaries! pic.twitter.com/IzoRvHW1VM

— Randeep Singh Surjewala (@rssurjewala) January 6, 2019