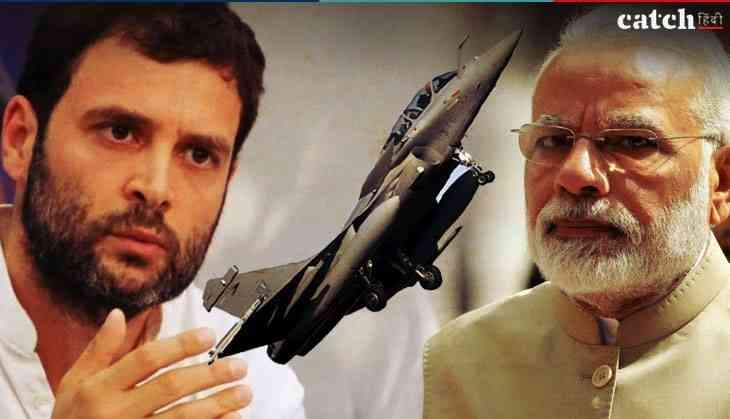 Clean chit to BJP in Rafale deal
The Rafale deal row which was in the news due to corruption allegation has been laid down to rest after Supreme Court's clean chit to the Modi government.
The PM Narendra Modi government was alleged by the Opposition to have shown favoritism to the Reliance company owned by Anil Ambani, which went into a deal with the France's Dassault Corporation.
But today, the bench headed by the Chief Justice Ranjan Gogoi has denied all such allegations and said that, "We can't sit in judgement over the wisdom of purchase of aircraft."
On the allegation of BJP giving favoritism to the Ambani's, the Supreme Court said, "We don't find any substantial element to show that there is any substantial favouritism."
CJI Ranjan Gogoi says 'we can't compel government to purchase 126 aircrafts and its not proper for the court to examine each aspect of this case. It isn't a job of court to compare pricing details.' #RafaleDeal https://t.co/DWHMCpqIRa

— ANI (@ANI) December 14, 2018
CJI Ranjan Gogoi has said, "here is no reason for interference in the choice of offset partner and perception of individuals can't be the basis for roving inquiry in sensitive issue of defence procurement."
Now, the BJP is speaking to the media after being in a hibernation due to the election results announced recently. Home Minister Rajnath Singh has said, "The matter was crystal clear from the beginning and we have been saying that the allegations leveled by Congress were baseless and to gain political mileage."
Senior Supreme Court lawyer Prashant Bhusan has said that the decision is wrong and the apex court needs to rethink about it.
He said, "In our opinion the Supreme Court judgement is totally wrong, the campaign will certainly not drop and we will decide if we will file a review petition."
Also read: Rafale deal row: Supreme Court gives clean chit to Modi government, says, 'No occasion to doubt process'
Home Minister Rajnath Singh on SC dismisses petition seeking Court probe in #Rafale deal: The matter was crystal clear from the beginning and we have been saying that the allegations leveled by Congress were baseless and to gain political mileage. pic.twitter.com/G1Nfsv64j6

— ANI (@ANI) December 14, 2018