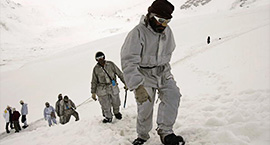 Buried alive under 35 feet of snow and ice after an avalanche struck his post on 3 February, Lance Naik Hanumanthappa Koppad was the only one of the 10 soldiers of 19 Madras Regiment to survive because he was trapped inside an air pocket, reports The Indian Express. Hanumanthappa was dug out alive by army rescue teams on 8 February.
Ever since the avalanche of 3 February, about 200 personnel from other posts and units on Siachen have been working to rescue and retrieve the 10 men who were buried beneath snow at Saltero ridge. Hanumanthappa had been detected by a radar, but his rescuers did not expect to find him alive.
The rescue teams include two sniffer dogs, Dot and Misa, and are carry radars, snow cutting equipment, medical equipment, Doppler radars, thermal detectors, rock drills, electrical saws and earth augers to break the blue ice that is harder than rock.
The bodies of the 10 jawans were found at different locations, detected because the radio sets they had been equipped with continued to transmit signals from beneath the snow. "As a practice, radio sets at the post are never switched off," an Army official said.
Thermal imagers show changes in the temperature of any area in which a human (or any other warm-blooded creature) is present. "It took the teams several tries to drill and reach Hanumanthappa's exact location," an official said.
Disoriented and with a weak pulse when he was finally dug out at 7.30 pm on Monday, Hanumanthappa was treated at the post and then flown to Delhi on Tuesday.
"The credit goes to his willpower to survive and stay alive despite the sub-zero temperature," said an army official. Chances were that he had been in his tent when the avalanche struck and so was kept warmer than he would have otherwise been, said an army doctor.
Rescue teams are still working in the area, where night temperatures can reach minus 55 degrees Celsius and bad weather is prevalent. Teams had to work in rotation because the lack of oxygen at that high altitude decrees that soldiers have to rest every 15 minutes.
The bodies of the other nine soldiers have been found and will be flown out when the weather permits it.