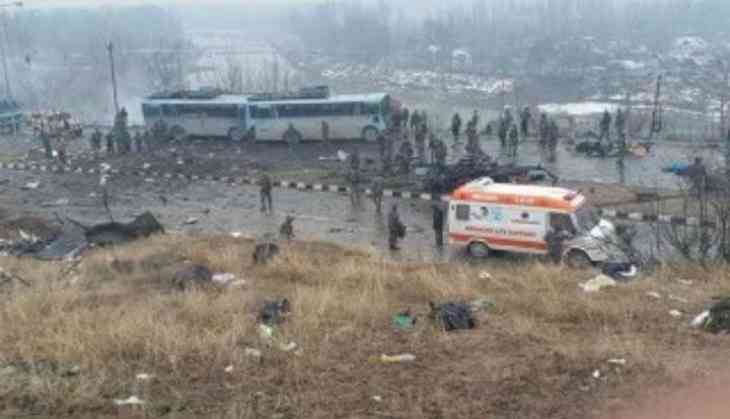 In a major attack on the Central Reserve Police Force personnel in Jammu and Kashmir, an IED blast at Awantipora in Pulwama has led to the killing of at least 12 soldiers and has injured around 10.
The incident, as per media reports, is believed to have been triggered by the improvised explosive device and caused the explosion at Goripora area. Gunshots were reported from the scene where the blast ocuured.
News agency PTI has reported that terrorist organization Jaish-e-Mohammad has claimed the responsibility.
Meanwhile, India has been reeling under terrorist attacks one after the another since last four or five years and even after tight surveillance and presence of security forces, incidents have occurred claiming lives of soldiers and civilians.
12 CRPF jawans have lost their lives in an IED blast in Awantipora, Pulwama. Dozens injured. #JammuAndKashmir (visuals deferred) pic.twitter.com/bONkKeFFxt

— ANI (@ANI) February 14, 2019
1. Gurudaspur: Three terrorists entered the district of Dina Nagar in Gurudaspur in July 2015 and killed 7 people.
2. Pathankot: Alleged Jaish-e-Mohammad terrorists had attacked an Air Force base in Pathankot in January 2016 and killed 3 security personnel, although Indian forces were able to kill four terrorists. And PM Modi had commented then saying, "enemies of humanity who can't see India progress tried to strike at our strategic area, a prominent airbase at Pathankot. I appreciate our armed forces and thank them for foiling our enemy's attempt."
3. Kokrajhar: 14 civilians were killed in an attack in Kokrajar, Assam in August 2016, carried out by alleged militants of National Democratic Front of Bodoland.
Pained beyond words on the dastardly attack on peaceful Amarnath Yatris in J&K. The attack deserves strongest condemnation from everyone.

— Narendra Modi (@narendramodi) July 10, 2017
4. Uri: In a dastardly attack on an Indian Army base in Uri, 19 Indian soldiers were martyred by the terrorists who belonged to Jaish-e-Mohammed and Indian Army was able to kill 4 terrorists thereafter. PM Modi had said "I assure the nation that those behind this despicable attack will not go unpunished."
5. Amarnath: In July 2017, when a bus after visiting the Amarnath was returning, terrorists attacked the vehicle, killing 7 people and even attacked police vehicle. PM Modi had tweeted, "Pained beyond words on the dastardly attack on peaceful Amarnath Yatris in J&K. The attack deserves strongest condemnation from everyone."
ALSO READ: Pulwama Blast: At least 12 CRPF men killed, 10 injured in a massive blast in J&K