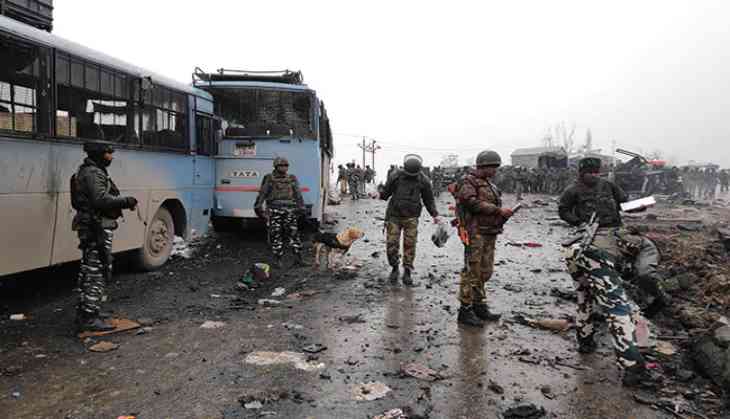 After the deadly attack in Kashmir's Pulwama district which killed more than 40 CRPF personnel, the post-blast analysis conducted by the National Security Guards has confirmed that an SUV was used with 100-150 kgs of RDX.
A preliminary investigation, as reported in media, suggests that the SUV driven by the suicide bomber was packed with the RDX, which had hit the 78 vehicles convoy of CRPF, carrying 2,547 personnel.
The officials further said that the samples have been collected and further forensic analysis will be conducted. NSG in its first post analysis report has also suggested that most evidence got washed away in rain as wreckage was lying on the road. Thereafter, the suicide bomber, Adil Ahmad Dar used a slip road to come on the National Highway.
NSG submits first post blast analysis report to MHA, confirms SUV was packed with RDX, around 100-150 kgs. Most evidence washed away in rain as wreckage was lying on the road. Suicide bomber used a slip road to come on the highway,I report #Pulwama #CRPF https://t.co/3CSlyPki8x

— vijaita singh (@vijaita) February 16, 2019
An internal note of the Ministry of Home Affairs said, "As the number of personnel at the transit camps always remains high, buses are used for transportation. These buses have thin metallic plates which offer no protection from bullets or IEDs. Firing being the main threat, improvised plating has been arranged in a few vehicles but there is no safety against IEDs."
The earlier investigation has suggested that Ahmad Dar entered the highway from the Kakapora-Lelhar side and hit the fifth bus in the convoy from the lest side and thereafter, triggered the explosives. Although, the route was open fro movement of the civilians, just one hour ahead of the incident, the route was sanitized for the presence of IED, officials have said.
Also read: Pulwama Attack: 'Papa is on duty,' says five-year-old son of CRPF jawan killed in the deadly terror attack!