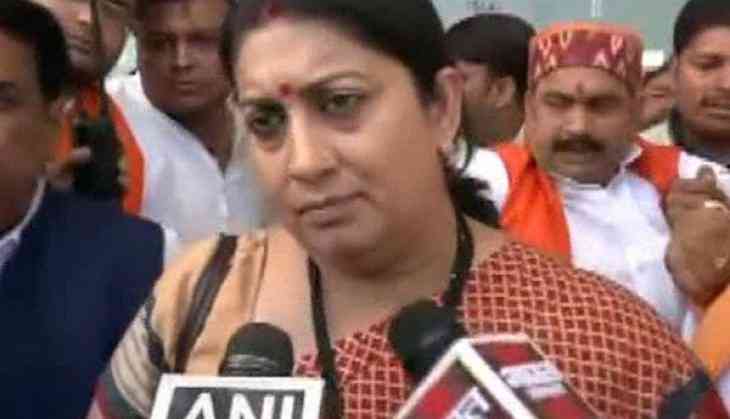 Union Minister and BJP leader Smriti Irani has claimed in a twee that Congress' Priyanka Gandhi Vadra has 'insulted' former PM Lal Bahadur Shastri by garlanding the leaders bust with the garland she had worn.
Irani, who took a dig at the Gandhi scion, might contest from the Amethi constituency, which is the home turf of Congress president Rahul Gandhi. Union Textile Minister tweeted a purported video claiming that Priyanka Gandhi has 'insulted' ex PM Lal Bahadur Shastri.
In a tweet in Hindi, "In her "arrogance", she chose a used garland, clapped, waved her hands and left after insulting Shastri," alleged Smriti Irani.
शास्त्री जी को गांधी/वदरा परिवार ने कभी समान दिया ही नहीं लेकिन यह दृश देकर दुख ही नहीं इनके संस्कार पर भी रोना आता हैं। यह क्या देश चलायें गे https://t.co/jF1RcTWCmT

— Chowkidar Sidharth Nath Singh (@SidharthNSingh) March 20, 2019
She further added that Congress party lacks values and this goes on to shows their true face. "It shows the real values of Congress."
Priyanka Gandhi Vadra, who was on a three-day tour in Uttar Pradesh, called out the BJP government for their inefficiency and added that upcoming Lok Sabha Election is a "new freedom struggle."
Gandhi said, "We fought for Independence and it was fought on the basis of truth," she said. Yeh naiyee aazadi ki ladai hai."
Since Priyanka was appointed as the General Secretary of the UP East, she has not been this valiant in attacking PM Narendra Modi. But, on this poll tour, she directly took upon the BJP stalwarts and aimed direct allegations at them.
Priyanka Gandhi said, in her rally in Mirzapur, "So I think the PM should stop thinking that people are fools and realise that they see through all this."
Smriti Irani will be in direct competition with Priyanka Gandhi's poll campaigning in UP East, which holds the key to Lok Sabha poll.
Also read: Another terror attack on India will be 'extremely problematic': US warns Pakistan