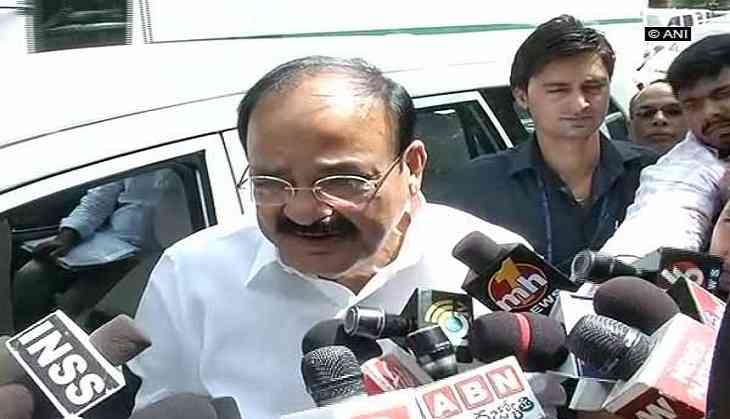 In the wake of the Presidential elections to be held on July 17, Union Information and Broadcasting Minister M. Venkaiah Naidu on Wednesday said he had exchanged views with Home Minister Rajnath Singh and hence, would talk to different parties.
Naidu said, "We exchanged views today, and will be talking to different parties regarding the same."
"On June 17, the Finance Minister will come back. We will exchange information with him and move forward", he added.
Meanwhile, the Opposition leaders will meet today to discuss the Presidential elections.
The convention will include Congress leaders Ghulam Nabi Azad and Mallikarjun Kharge, JD(U) leader Sharad Yadav, Rashtriya Janata Dal (RJD) leader Lalu Prasad Yadav, CPI(M) leader Sitaram Yechury, TMC leader Derek O'Brien, Samajwadi Party's Ram Gopal Yadav, BSP's Satish Chandra Mishra, DMK leader R.S. Bharathi and NCP's Praful Patel.
Recently, Congress president Sonia Gandhi met various leaders from the Opposition parties to give a tough fight to the ruling National Democratic Alliance (NDA) Government's candidate for the post of President.
Earlier this week, Bharatiya Janata Party (BJP) president Amit Shah formed a three-member committee, consisting Union Ministers Rajnath Singh, Venkaiah Naidu and Arun Jaitley for consultations with the Opposition over candidates for the Presidential elections.
-ANI