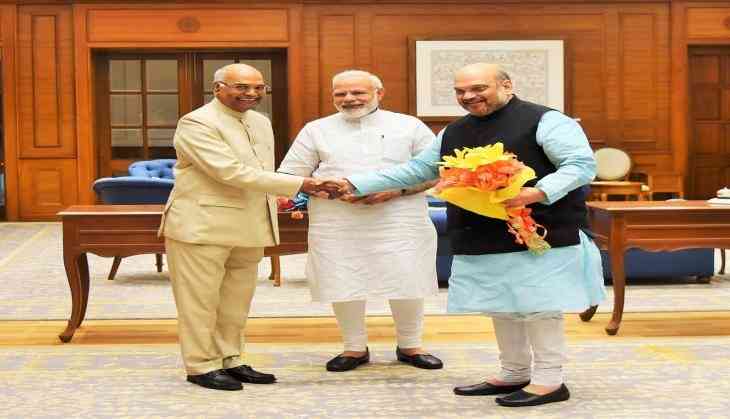 Presidential Election 2017
NDA's presidential candidate Ram Nath Kovind filed his nomination papers in Parliament house in Delhi in the presence of Prime Minister Narendra Modi and BJP chief ministers of some states on 23 June.
#Delhi Ram Nath Kovind, NDA's presidential candidate filed his nomination papers today #PresidentialPolls pic.twitter.com/Tg2k4DKYhg

— ANI (@ANI_news) June 23, 2017
Along with Prime Minister Modi, Union Urban Development Minister M. Venkaiah Naidu, BJP veteran leader L.K. Advani and Murli Manohar Joshi, BJP chief Amit Shah were present at Parliament.
Rashtrapati ka padd dalgat rajneeti se upar hona chahiye: Ram Nath Kovind after filing nomination papers for his presidential candidature pic.twitter.com/rRqj3NQtXm

— ANI (@ANI_news) June 23, 2017
Before going in to file his nomination, Kovind along with the BJP top brass and the Prime Minister, linked their arms together and raised them in front of the media, in a display of strength.
The ruling NDA government has nominated Bihar Governor Kovind for the position for the post of Indian President.
Meanwhile, the opposition on Thursday nominated former Lok Sabha Speaker Meira Kumar for the highest post India.
All 17 political parties unanimously proposed name of Meira for forthcoming Presidential elections.
The decision was taken after the Opposition - Congress and the Communist Party of India (CPI), and other parties - met to discuss the NDA decision on Presidential nominee Ram Nath Kovind.
The Samajwadi Party and the Bahujan Samaj Party (BSP) have backed Kumar.
Though earlier, the Mayawati-led BSP extended their support to Kovind, but after the nomination of Kumar, they recalled their support.
The election for the next President of India is to be held on July 17 as President Pranab Mukherjee will demit the office on July 24.
The counting of the votes will be done on July 20.
-With ANI inuts.