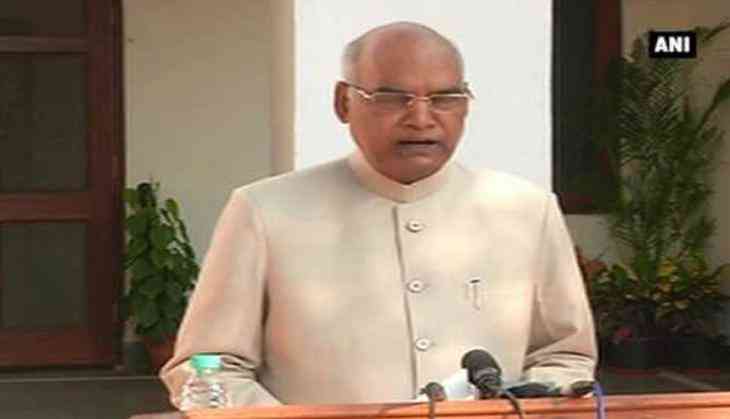 President Ram Nath Kovind on 12 October said the Governors of states have a crucial role to play in realising the dream of 'New India by 2022.
Inaugurating the 48th Conference of Governors at Rashtrapati Bhavan here, Kovind said critical milestones and national goals have been set in the context of the completion of 75 years of independence in 2022.
To ensure that 'Team India' advances "unitedly" to achieve these national goals, Governors should inspire and connect all relevant stakeholders in their respective states.
"The Government of India has resolved to build a society that is safe and secure, prosperous, ensures opportunity for all, and is a leader in science and technology," Kovind said stressing that the time-frame for all this is just five years.
"Given the magnitude of this task, it is necessary that the entire country works unitedly and is on the same page.
"The five years from 2017 to 2022 are devoted to the creation of New India, one that is free of corruption, poverty, illiteracy, malnutrition and unhygienic conditions," he said.
Twenty-seven state Governors and three Lt. Governors from the Union Territories (UTs) are taking part in the two-day Conference.
Besides, the Administrators of the UTs of Dadra and Nagar Haveli, Daman and Diu and Lakshadweep are also attending the two-day event as special invitees.
The President said that being an intrinsic part of the legislative system in their states, Governors could provide a new dimension to the development of their states by communicating with legislators, and inviting them to Raj Bhavan to deliberate on subjects related to public well-being.
He said the conference is a platform for the Governors and Lt. Governors to discuss important issues and share their experiences.
Kovind underlined that the obligation of the Governors to preserve and uphold the Constitution and commit themselves to the service and welfare of the people is even more pronounced in the current paradigm of cooperative federalism.
Kovind said that by establishing communication with university Chancellors and Vice Chancellors, academicians, social workers, Governors could help raise the quality of discussion and debate and provide an impetus to society and the state government.
He said the dream of a developed India will be realised only when every state develops.
Vice President M. Venkaiah Naidu and Prime Minister Narendra Modi also participated in the inaugural session.
-IANS